A good friend of mine sold me on The Strange Color of Your Body's Tears as a modern throwback to Giallo horror films: Italian-made flicks usually from the 70s and 80s known for their lurid sexuality, rampant stylization and plots usually so batshit insane, you could use them as high-quality fertilizer and produce roses red enough to inflame the passions of the most prudent of stuffy librarians.
These kinds of throwbacks and homages are something I usually struggle with, because, even when a movie manages to perfectly emulate an older style or genre, my question is then "Ok, now what?" It's great if you can produce a film that looks exactly like a 70s grindhouse 'sploitation movie, but if I wanted that, I would just watch the genuine article. If you're going to emulate something it should be for a reason – throw a clever deconstruction in there, or at the very least some kind of commentary or message.
I still can't decide if The Strange Color of Your Body's Tears breaks this rule or not, to be honest. If anything, I think the film succeeds almost as a satire of Giallo's stylistic excesses by taking them to such an extreme that the film becomes a surrealistic barrage on the senses. It constantly bombards you with formal devices and stylistic quirks until it becomes akin to the last fight scene in The Raid: an exhausting, mind-numbing exercise in lack of restraint. In this, the film is extremely divisive, and reviews either sing it as a stirring tribute to Giallo or an un-watchable, pretentious mess.
For my part, I'm on the fence. On the one hand, it is at times superbly atmospheric, and has some really beautiful camera work, sets, and imagery. On the other hand, the film has absolutely zero stylistic restraint, hitting you with every device and quirk it can think of, funky angles, colored lighting, split screen, zooms, rotating images, kaleidoscope effects, and practically the whole thing is shot in extreme close-ups, usually of someone's eye. Oddly enough, though, there wasn't a split-focus diopter shot. It does have all or at least most of the typical Giallo trappings, but the styler overall is turned up past eleven an into some theoretical number that modern math hasn't reached yet.
The plot, for its part, is prettymuch Giallo through and through. After our protagonist, Dan, returns home to find his wife missing, he begins investigating her disappearance himself, with a stern police detective on his heels who himself suspects Dan of foul play. While searching for clues. Dan comes across the strange denizens of the apartment building where he lives, most of whom feel the need to relate their own tale of woe, which all could be the plots of Giallo films in themselves.
And I'm sure it all means… Something. The film flits in and out of being full-on impressionistic, with an almost nightmare logic of repetition and visual double-speak. There's some kind of plot involving a secret S&M/murder club behind the walls and the police inspector possibly being traumatized by having seen a vagina as a small boy (Shock! Horror!) and if you were to watch it with a group of friends everyone would probably have a completely different idea about who or what the killer turned out to be in the end. I kept imploring the film to drop me some kind of hint about just what the hell was actually going on, but whenever I did I felt like it met me with a condescending European sneer and called me a boorish oaf before continuing on it's merry, oblique way.
So if you're into movies that leave you with clear, concise answers about what exactly it is you just saw, this one may not be for you, since it's honestly about as impenetrable as a concrete wall. A very well-adorned concrete wall, mind.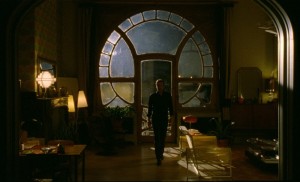 If nothing else, the film replicates the (stereo)typical look of over-designed everything in Giallo films. There isn't a single window that isn't a big, rounded, stained-glass art installation, not a single door handle that isn't carved to look like a tree branch or a cleverly disguised phallus. The mise-en-scene is about as striking and in-your-face as the formal elements are, so you can't say the film is inconsistent at least.
But the problem is that it's all just too damn much. I kept begging the film to slow down, take a breather, maybe have some nice, simple shot-reverse-shot, maybe a simple pan, anything other than the storm of clever cuts and lurid frames it keeps going for almost the entire film. As much as I can appreciate the atmosphere and how visually striking the film can be at times, it's just an overload that goes too hard on the visuals, the narrative obliqueness, the… everything.
It gets to the point that you can't see the trees for the forest, in a manner of speaking, and every stylistic element is jostling with each other for our attention so much that the whole thing just becomes a blur, and an exceptionally unintelligible blur at that.
While I do think The Strange Color of Your Body's Tears is interesting, it's more interesting as an example of rampant excess than anything else. Which is a shame because if that style were toned down significantly and maybe just a tiny bit more transparency added to the story, we'd have a pretty fun, atmospheric little Giallo throwback on our hands, something akin to Berberian Sound Studio, maybe. As it is we're just left with an example of how do over-do something, and I learned that the last time I tried to make a grilled cheese sandwich and wound up with a new doorstop, thank you very much.