We are on Emery Street. Seb Black is seated on an old, Victorian-style couch like a King on his throne. The walls are painted metallic purple. At his feet, a small, black pit-bull is gnawing on a raw, bloody piece of meat that's almost as big as she is, getting blood all over the snow-white faux-fur carpet. Black looks on, completely unconcerned, a cigarette in one hand and a tall-can of Pabst in the other.
The scene is completely bizarre and surreal but there is an unmistakable air of refinement and class to it. For Black, it's just your average Tuesday night. This is a small slice of life on Emery Street, the headquarters for the appropriately named Emery Street Records.
Emery Street HQ is Black's kingdom, a world so real and raw that it crosses the line into fantasy. This place has to be seen to be believed. It's much more than your average record label headquarters. A completely organic DIY space, Emery Street features a high-quality recording studio, several jam spaces, and is also where most of the musicians on the label eat, sleep, work, and play.
So what exactly happens when you put a bunch of people who are all musicians, singers, songwriters, and friends into one space? The resulting energy is exciting, intoxicating, and a little bit frightening at the same time.
The purpose of all this, according to Black, is to create a world so unusual, so out of the ordinary, it becomes the stuff of legend.
"We're trying to create an atmosphere, and that atmosphere will be legendary," Black says.
Then there's the music, which is almost just a by-product of the crazy world that Black and his fellow musicians have built for themselves.
"Anyone can make music," Black said. "Anyone can learn an instrument and play songs. You have to have a style and you have to live that style."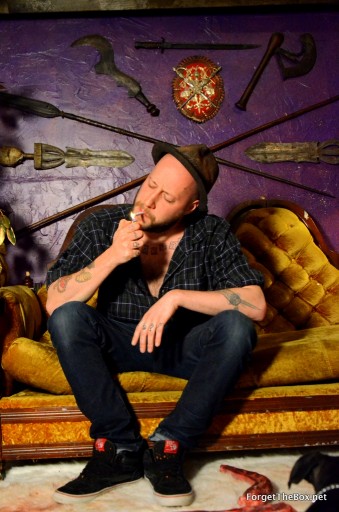 For Black, living this way comes naturally. His story has all the markings of a classic punk folk tale. A high-school dropout raised by a passionate, free-thinking single mother up north in the Laurentians, Black started making and producing music at a young age.
When he was 18 years old, he was living almost 100 km north of Montreal in Val-David, producing music for hip-hop artists.
"My manager said 'I'll introduce you to a big producer but you have to meet him on Wednesday at ten in the morning on the corner of St. Denis in Montreal.'" he said. "I didn't have a ride so I hitchhiked here and met him."
This attitude of going out and just doing something without having a backup plan is what led Black to where he is now.
"Most people have shit holding them back," he said. "I'm just lucky that I had the life I had, which might have been really hard, but it gave me the chance to truly not give a fuck."
The emphasis on this idea of having a style and living that style is what all the musicians at Emery Street seem to have in common. "Style is like a religious word around here," said Eddie Paul Hodorek, whose band is signed to the label, along with Seb Black and a third band called Les Tavarneux.
Eddie Paul moved in around three years ago when Emery Street was starting to come together. He's the first to say that this lifestyle isn't for everyone. He had to adjust to the constant movement, chaos, and noise in the house, not to mention sleeping in a room with no windows.
"Everything you know, or you think you know, has to change," he said. Is it working for him now? "I work for it now," he replied.
His statement speaks volumes about the concept of Emery Street as its own entity. Every member seems to agree that the musical products created by all of these individuals would not be the same were it not for this environment.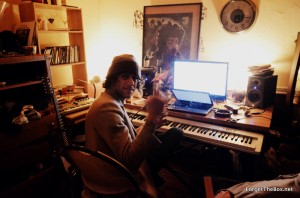 Contrary to what most people might think, the total absence of rules, schedules, and regimented work slots is incredibly conducive to inspiration and creativity. The proof is in the music. Seb Black's album 'On Emery Street' will be officially launched on May 30 at Katacombes. Tickets are 10$ and you get a copy of the CD. Meanwhile, Eddie Paul and Les Tavarneux are looking to release their respective works sometime in the fall.
"There are bands out there with budgets from their record labels. They're paying for studio time, they're watching the clock," Hodorek said. "That's the difference: we're all friends and we're all here for each other. We get the benefit of everyone caring about everyone else's music. The whole process is more enjoyable 'cause it's not about money, it's about each other's thing."