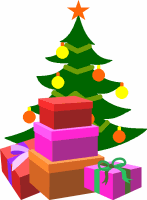 Everyone's got that person on their Christmas list the one who can't think of anything they want or need but would be downright crestfallen or irrationally angry if you showed up at their house empty-handed, or, worse yet, with a gift that made them make that "present face". You know the one that forced smile while the word "thanks" is muttered through clenched teeth.
So why bother with itchy socks, another pungent lotion gift set that will only collect dust underneath the sink or uninspired box of chocolates that the recipient will just regret eating all of in a few weeks when none of their jeans fit anymore. Without further adieu, these sexy gifts are sure to entertain, titillate, raise a few eyebrows and win you some points (or dirty glares) at the office Secret Santa!
I've rated these sassy items on a scale of 5 Golden Rings you know the ones I mean, the big gold medal winning O's that ring not only in your ears but vibrate through your entire body.
Santa's Lil Helper Vibrator
Maybe this little toy could help you convince Santa to stay for more than milk and cookies?   Includes obligatory pun with the word 'coming'.
2 1/2 out of 5 Golden Rings… though to be perfectly honest, the real candy cane gave me a solid 2.   Plus then you have a sweet treat for after!
Obama Dildo
This hefty little number will have your sultry little voice panting "Merry Christmas, Mr. President"  all through the Advent.   You have your choice of Democatic Blue or Presidential Gold… what, not big and black?   Furthermore, I wonder if there's a George W. Bush one in republican red?
4 of out 5 Golden Rings, as everyone would like politics a little more if it were actually a full contact sport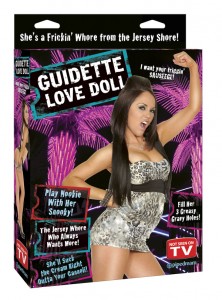 Guidette Blow Up Doll
This is just wrong on so many levels, though it doesn't really surprise me.   It really puts the "gag" in gag gift.
1 out of 5 Golden Rings, solely for the so stupid they're ridiculous jokes on the box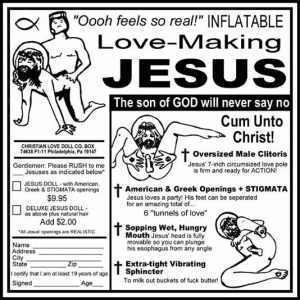 Jesus Love Doll
Surely you can spring the extra two dollars for natural hair, after all, it's Christmas and a hairless Jesus just isn't right.   But one thing I don't get is the "oversized male clitoris"… and why would you want to screw a stigmata hole?
5 out of 5 Golden Rings JC must have learned his techniques from a true professional, so I'm pretty sure it's sound
Sola, the Solar Powered Vibrator
Now your commitment to saving the planet can be reflected in your sex toy selection.   Perfect for when you're out of batteries or feel like going at yourself in the middle of a sunny field.
2 out of 5 Golden Rings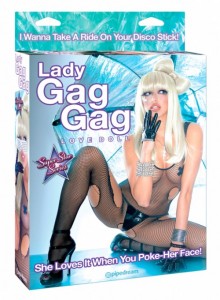 Lady Gag Gag Love Doll
"Meet Lady Gag Gag, the deep-throat drag queen who'll suck the chrome off a disco ball faster than you can say Just Dance!" With a name and career ripe for parody, it was only a matter of time before there was a latex incarnation of Lady Gaga.   She sued its makers and got the product pulled from shelves, so you'll have to put a platinum wig and meat dress on your own blow-up doll and poke-her face instead.
3 out of 5 Golden Rings
Finally, I will close with one more shameless act of self-promotion. Glam Gam's smash hit burlesque show, Tits the Season 2 is back for one night only, Saturday December 18th at Cafe Cleopatra's. Doors at 8:30, show at 9:30.   Check out our review here.