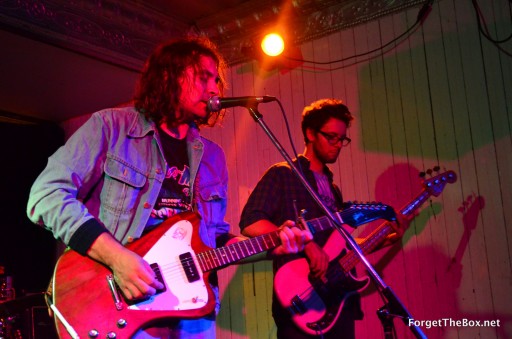 Five shows into an extensive fall tour, The War on Drugs played a sold out show at Casa Del Popolo with Caveman and Porcelain Raft. Arriving just in time to see the haunting Porcelain Raft, a one man experimental electronic show, close and contrast with the primal, drum-heavy Caveman and the night was off to a great start.
From the moment the warm electronic hum of The War on Drugs filled the room, the sound never seemed to stop. With dense backtracks blurring the divisions between songs, they faded in and out of one another eventually taking recognizable shape. Adam Granduciel's voice floats just a few notes above the mixture, somehow sounding far away even when he's standing directly in front of you. That faraway quality extended to the general vibe of the band, who looked completely absorbed and lost in each song, possibly transported home to Philadelphia. It's hard not to be swept right along with them during songs that sound like classic American ballads like "I Was There". The band's brand new "Slave Ambient" was released last week, but thankfully, they didn't neglect some of their older spacey rock anthems like "Comin' Through" and "Arms Like Boulders". Despite their themes of struggle and self-defeat, these songs were seamless and they sounded right at home in the comfort of their old favourites.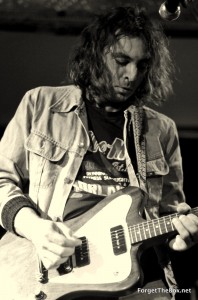 Each time I've seen the War on Drugs with their almost meditative moods, I'm reminded of how much focus their intricately crafted songs must require, which is a very different experience from listening to Adam toss out lyrics on some of their latest recordings. While they clearly take their performance seriously, they don't get hung up on perfectly replicating recorded versions of their songs. When introducing "Baby Missiles," the clear favourite of the crowd, Granduciel apologized for losing their harmonica and prepared to play the song minus the climactic harmonica solo. One devastated audience member actually asked the band if he could try and find it for them and began searching for it among the amps and wires by the light of his phone. Despite his best efforts to find it, the song went on without the solo and was still one of the highlights of the night. In interviews Granduciel has explained that they've been known to scrap songs which may have made more technical sense in favour of the less than perfect ones that have more feel to them. They definitely evoked that "feel" for the lively fans packed into Casa Del Popolo. In response to an overly supportive "Fuck Kurt Vile" shouted from the audience, Granduciel calmly responded with "Yeah, that's not cool."
If they're even fazed by their mounting fame, they don't show it. After spending a night in such an intimate venue listening to the humorous exchanges between a truly great band and their true fans, I left feeling like I'd just hung out with a hard-working band who loves going to shows just as much as I do. In reality, they've already outgrown these smaller settings and, at the rate they're going, there won't be many more.
* photos by Chris Zacchia