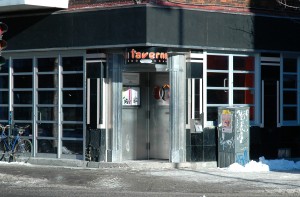 If you're new to Montreal Canadiens hockey, now is the right time to start watching. A good chunk of the season has past and each game until the last one will always be important. All points lead to a playoff spot and every single goal matters, quite exciting. A middle of the week game can be ordinary…except when the Habs are playing their longtime rival the Boston Bruins. To all fans, we all know it's always a great battle. To anyone new, the one thing you should know: the Habs don't like Boston and vice versa.
I wanted to go to a hockey hotspot so I returned to Ave Mont Royal and ended up at La Taverne Chez Normand (1550 Av. du Mont-Royal). I found some familiar acquaintances after members of my lineup bailed at the last minute (being sickish is not an excuse to miss a clash of great rivals, lame excuse). What wasn't familiar was the interior of the bar. Formally Chez Normand, La Taverne got a recent makeover and now has a tavern look and a new menu. What stayed the same was the crowd, always enthusiastic and loud.
La Taverne gives you free shots when a player from your table scores and we had Jeff Halpern's jersey number at ours. We were supposed to have the PK Subban table, but somehow with a little sweet talking we ended up getting shots anyway. La Taverne aligns their TVs to the center of the room on the ceiling, a little strange for hockey watching, however they do have a giant projection on their front window. Almost life size, feels like being at the game.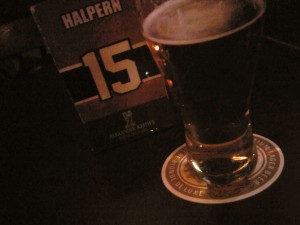 Fans were going crazy as beers kept coming. Boston had a two goal lead but were playing full-on contact. It was the fourth meeting between these tough teams and Montreal had taken all the wins. Boston wanted this win and wanted to extend their lead in the standings. The Habs were not too far behind in points, they could leapfrog over the Bruins and take 3rd place from them (we are currently 6th in the East). To the newbies following this: we really hate Boston and we needed this win.
The Habs came back scoring and each time we scored the bar would be blaring James Brown's "get up offa that thing" in celebration. That song became constant in the 2nd period, Brian Gionta scored his 200th career goal while rookie Yannick Weber notched his   first. It was a battle of goals, each time Boston scores Montreal would score also and vice versa. This game was originally supposed to be a goalie battle as both Carey Price and Tim Thomas have been solid for their teams, but not this time.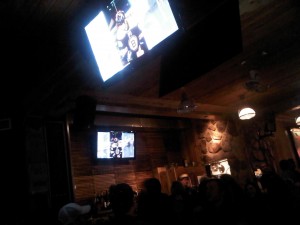 Then it got fierce, constant pushing and shoving. It all started when Bruin Milan Lucic went after PK Subban. Then as goals were coming at constant and free shots were being served, tempers flared. Years of sheer hate and the last three Hab wins caused an explosion that triggered on a icing call. For those who are new to this, in short: a fight broke out. Then another, and another and another.
The crowd at La Taverne were screaming and cheering as fists were flying and the penalty box was full to capacity. I've never seen anything like this before, also from a woman's perspective I've never seen so many good looking guys at the bar.
There may have not been a goalie battle, instead there was a goalie fight. Holy crap, I knew Price had it in him. Actually, it was more like a goalie waltz but still, there were punches. Then more goals, unfortunately they were Boston's. Most of them coming from constant pest Lucic and former Hab Michael Ryder, now on my hate list.
Towards the end, the Habs never gave up. Pacioretty, sore ribs and all, would notch a couple. A guy is dancing back and forth and high fiving everyone. This is the kind of thing one would see during playoffs, not usually in a middle of the week game.
Boston may have gotten the win, but man are they great sh*tdisturbers. The Habs Travis Moen had been busy with his fists all night, so had everyone else. Well, except usual underachievers Gomez, Kostitsyn and Eller. Not cool at all.
Also not cool was Gregory Campbell wailing on Tom Pyatt, but when it's that time of year where every game matters, the team will do whatever it takes to get points and make the playoffs. Even if it gets bloody. There were a ton of penalties in the battle in beantown however I did have ton of fun with the best fans at La Taverne. Those of you new to Canadiens hockey; do check this place out.