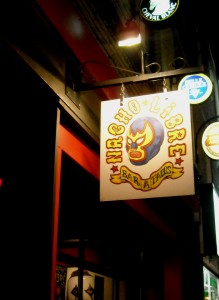 What an October it was, scary and surprising; The Canadiens put to rest the ghost of Halak and closed the month atop the league standings! With Carey Price playing amazing, (scary isn't it?) the Habs have surprised many by banking quite a few points early in the season. (Eat this Price haters, especially the one who posted his hate on Facebook. I responded along with 21 others to "chill" on the hot goalie.) "Would you like it if I came into your workplace and start saying you suck?"
Enough about the goalies, the team has surpassed my expectations and those of many fans and commentators. I wish I could say the same about my lineup of friends who come out to watch the games with me or figure out what bars to go to. While  the Habs  were winning   I pulled a disappearing act for a few games. Here's what  happened in list form:
1) I tried to watch the game at Barfly and other dive bars however the lesson in the art of sketchy bars: I can't go by myself. Being a female hockey fan has some disadvantages such as getting sketchy job offers from sketchy bar guys. I was playing hide and seek for a couple games (same goes with the Habs power play) but will re-attempt Barfly and other dives later in the season.
2) I'm surprised by the performance of Andrei Kostitsyn. AK46 has been lighting the lamp for the last few games. I knew he had it in him but I'm blown away so far. Its like a weight has been lifted off his shoulders (AKA trading his brother Sergei away was the best career move ever). I will however miss making Sergei jokes.
3) Whoever wants the job of left winger on the Gionta/Gomez line, please take it… anyone? I dare the Bell Centre staff to grab someone in the crowd to take left wing, I think we've reached that point.
4) Markov is back, but the power play isn't. We're easing him in. The defence has been playing ok, with the exception of Spacek and O'Byrne who aren't doing so great. Not surprised about O'Bryne, the lost expression on his face worked in his rookie year but this is season four. It's time to do something with your size or else you're easy trade bait.
5) I promise to do an Ottawa game soon. We play them 8 times, don't worry, it will happen.
So, last Wednesday I scrambled to find a venue, my friend lineup had become depleted, when I was suggested checking out Nacho Libre. Nacho Libre is a little neighborhood bar on Beaubien in Rosemont, I got there while passing a McDonald's also showing the game. In Montreal, they'll show the game anywhere but seriously, that's the last place I'll go to watch a game.
I walked into the bar as Plekenac scored, 2nd time that week it happened to me (Kostitsyn scored the game before). I got a good vibe walking in as the bar was packed for a middle of the week game. I've been wondering about this place for a while since my friend lives in the area.
Nacho Libre is more of a neighborhood bar than a sports bar. A good place to go out with friends for pints and to enjoy Travis Moen trying to earn a Gordie Howe Hat Trick (consisting of a goal, a fight major and an assist, he missed the assist). I looked around and was quite pleased by the decor, which consisted of Mexican wrestlers all over the walls and a giant Marlin. It's also a live venue with DJ's, no Mexican wrestling but some good Mexican cuisine. They serve tacos and nachos as well as other tasty things you can snack on while watching Carey Price in a goaltending duel against
Dwayne Roloson.
Waiting for my friend to show up, I got a kick out of the DJ's choice in tunes featuring a Led Zeppelin mashup, David Bowie and yes, I heard Arcade Fire at a hockey game. Nothing better than good tunes and PK Subban's amazing skating skills to kill some time.
A shift in location from the bar got us on the swings. Yes, there are swings in the middle of the bar. Fun for the little girl in me and the naughty in some of us. What a fun little bar I was in, good times! Another win, another loud cheer as it was Plekenac's turn to throw pucks into the crowd. What a good night in a great neighborhood bar!
Unfortunately the story wasn't the same against the Panthers the next night or Columbus last night.    The winning streak ends but it's November. Time for a clean slate. Maybe the power play will fall into tune,  hopefully Lars Eller will pick-up another point. (I feel bad for the kid from the Halak trade) Maybe the Canadiens will remain consistent and their fans will keeping watching, anywhere at anytime.
I will be looking for restos as November is "the month of no drink". Looking for great things to snack on that seem better than the Habs power play.