Another solid week for the Habs, with wins against original six nemesis Boston Bruins and the young and rebuilding Carolina Hurricanes. After the adventure at the last bar, I was looking for a change of pace. I was also craving some chicken wings.
By the way, there's a story kicking around about PK Subban at our last venue, something about drinking a glass of milk (or was he?) Will tell you  what  happened: Maxime Lapierre bought him a glass of milk at the bar the other night, and PK returned the favor by sending two shots of the frothy white stuff to the chirpy forward. Thanks Natalie for the full story.)
Original six teams bring the best out of the Montreal Canadiens as there's a rich history of love, hate and sometimes blood. I was excited for this game as this was a real test for the Habs, both teams have exceeded expectations and both goalies Carey Price and Tim Thomas of the Bruins have redeemed themselves in the #1 goalie roles. Thomas didn't play on this evening but Price had another solid game against Boston and again in Carolina. He even did a Halak impression VS Carolina making a great save by jumping across the crease to protect the empty net and rob Carolina of a sure goal.
Check out  Price's save here!
I decided to hit downtown for what I feel everyone should do at least do once in the season: check out La Cage aux Sports. La Cage is a known sports bar franchise in Quebec, known for chicken and ribs they also have awesome sports memorabilia from hockey players and athletes from Quebec. We went to the one on the corner of Mackay and Rene Levesque however if you want the full on hockey experience, the one at the Bell Centre is where it's at.
When we got there, we lucked out on a canceled reservation. No matter what night of the week it is, it will be full. Don't expect to waltzin there on a Saturday night, reservations are a must. I find it funny that it's harder to get into this bar than getting tickets for a home game at the Bell Centre.
There are specials each night and popcorn to snack on at the self serve station, however my friend and I were there for one other reason: La Cage's 25 cent chicken wing special every Thursday.
We feasted on some spicy wings, I enjoy spicy food however bars like La Cage really don't know the meaning of spicy. What were supposed to be the spiciest were quite bland. More bland than the first line as of late, hoping that guys like Plekanec and Kostitsyn can add spice to guys like Gionta and Gomez.
Thank god that happened, Gionta is on fire with 2 goals in the last 2 games, Gomez 3 points. PK Subban finally got his first goal and is burning up the ice. Thank the man and mentor who passed the puck to the rookie: Andrei Markov…
…who then re-injured his right knee on Saturday. Oh no, not again for the defence. Montreal is slowly accepting that our star defenceman is having issues staying healthy, hopefully this will give a kid in Hamilton a opportunity. Going to guess either Yannick Weber or Alex Henry (great big guy from training camp).
Can't really say much for Ryan O'Byrne as after a lot of patience and a lack of confidence, O'Byrne will find more ice time in Colorado in exchange for 18 year old prospect Michael Bournival. I said this before, I didn't liked how lost he looked on the ice, not using his size for anything. I wish him luck as many ex-Canadiens do a Hell of a lot better when not playing for the Canadiens. Just don't score another goal in your own net.
Being at La Cage, I was completely distracted by the loudness of the crowd, the rivalry between Hab and Bruin fans at the tables, knowing that every known song can become a dance track and the siren that would go off when the Habs scored. The one fallback to some sports bars is that there are too many things going on, the game ends up being the last thing I end up paying attention to. I also wasn't full, more chicken wings!
In total, 56 chicken wings were eaten by my friend and I. If I was La Cage during the 7-2 win against Carolina there would have been 8 more. La Cage aux Sports has a promotion where if the Canadiens score 5 goals you win 8 free chicken wings. However, you can only redeem them the next day up until the next game.
Each Monday on the Hockey Blog we will do "Shout outs" to anyone or anything that has put me in hockey awe. "Shout out of the week" goes to Montreal Canadiens Movember moustaches. It's like a preview of what we might see in playoff beards, all in good cause. Best have been from Travis Moen and Hall Gill, no Crosby 'staches in the Montreal lineup.
Also, to the guy who after the Montreal/Boston game decided to pay tribute to the Habs in the form of contemporary artist Serge Lemoyne's Dryden painting. Coolest thing I've seen this season.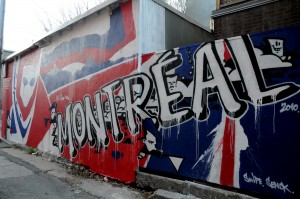 Photos: by Cindy Lopez