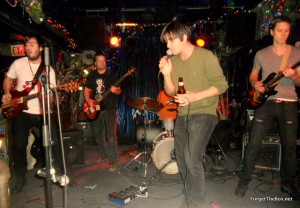 When The Triple Gangers asked me to cover their show at The Bovine Sex Club on December 15th along with fellow Toronto bands Hut and Moves, I had two words in response: Hell! Yeah! I must admit I was slightly disappointed upon arriving to discover that The Bovine is your standard indie rock venue filled with hipsters instead of naughty people in lingerie and latex. But I'm happy to say I had a great time at the show, shaking my toosh on the dance floor in true hipster form with a PBR always close in hand.
Garage punk band Moves kicked off the evening. Joe, Zach and Spencer first played together at school recitals back in their days at the University of Toronto. Only officially did they form a band, this past May. Their earnest desire to make sure you had a good time rocking out set a great tone for the rest of the evening. Moves had a bit of a shaky start, ("What song are we playing again?" lead singer Joe quipped with his bandmates) but they quickly recovered and delivered some enormously catchy tunes including my personal favorite, Intergalactic Lady. Extra props go out to drummer Spencer Cole who KILLED it on drums with a frantic energy that reminds this film geek of a certain character from The Muppets.
I was at Daniel Lee's show with his former band Hooded Fang when they played at Pop Montreal this past September, but with all the chaos that is Pop, I didn't get to catch much of their show. So when I heard that Lee and his new project Hut would be playing The Bovine Show, I was beyond stoked. Hut are a bunch of extremely talented lads, give their recordings a listen and you'll hear what I'm taking about. But while Hut was the most technically skilled band of the night, I must admit that I was a little underwhelmed with their stage performance. When I leave the comfort of my room and go out into the world to listen to music, I need to have that connection with the band to fully appreciate the experience. Because of that Hut didn't quite win me over.
The Triple Gangers closed off the night. Over the past six months I've gotten to know this band really well, and have seen them play everywhere from dive bars to keggers. With all the energy this band (along with their manager Steve Scott) has put into making The Triple Gangers a productive and professional project, I'm thrilled to see them now get some exposure at a venue like The Bovine. Formed two years ago, this dance pop trio has an extremely simple yet enormously effective set up: three singers (Aurora Cowie, Ghislan Aucoin and Ida Maidstone) and a shitty Yahama. You'd think a band would want a drummer and bassist, but The Triple Gangers disagree. "It forces us to pear our music down to the essentials and focus on strong songwriting" Ghislan told me after the show. "I wouldn't want it any other way."
Stage presence meanwhile is something that The Triple Gangers are masters at. Aurora, Ghislan and Ida keep their sets loose yet full of high energy and even after seeing them perform the same songs at various gigs (some of my favorite Triple Gangers songs include Road Rash, Avalanche, and Bunny Rabbit) they somehow manage to keep it sounding new and fresh. You always know that no matter how the rest of the evening goes, you are going to have a great time when The Triple Gangers play a set. And because of that, I hope they become rich and famous rock stars as soon as possible. I only hope that when they need a writer to do their Rolling Stone cover story, they'll remember their old friend Steph.