June is a fabulous month for celebrating the environment, which may come as a surprise. Almost every day is dedicated to some facet of protecting the planet and to raise awareness. Whether or not the event has passed, it serves as a reminder for the wonders and complexity found in nature.
Kicking off June like a firing squad at dawn is Environment Week.   According to Environment Canada, this year's theme for enviro week was "embracing life on earth."   While this may sound a little bit flaky, it has depth when pondered.
The United Nations has declared 2010 the International year of Biodiversity (IYB). Most people do not hear or think about biodiversity during the year. Publicity for this phenomenally important awareness campaign has not reached corners of the globe where it is most needed. When you stop to consider what it means, the message should hit home.
As a simple example that illustrates how important this concept is, take a moment to do this fun exercise: if you have ever worn clothes or eaten food, life on earth deserves your respect, and should be embraced.
Take a break from the computer and make a quick chart of where the shirt you are wearing came from.   Where was it made?   What is it made from?   Has it been dyed?   What kind of crop did the material come from?   Embracing life on earth might have a more well-grounded meaning if you take the time to understand how every thing we have in life is utterly dependent on resources we never think about.
Following Environment week is clean air day on June 2nd, the global day for the environment on the 5th, and the global day for oceans on the 14th.   June is rounded off by the summer solstice on June 21st.
One would suspect well publicized celebrations on such a distinguished, earth-centric month.   April, which hosts world renowned Earth Day on the 22nd, does not have as much packed into it.   Sadly, neglected June often breezes by without the attention it deserves.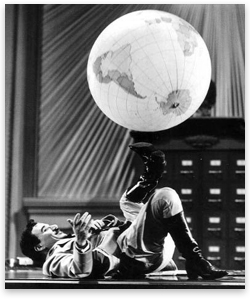 Western-world transitions may shed some light on the lack of enthusiasm for June's festivities.   In many places, school is out, students are looking for work, or final exams are running the gamut.   Otherwise, the possible activities that could be organized in academic circles, especially elementary and high schools, would be well sought after.
These important dates are mostly inaugurated by the United Nations.   Having such a wide international base should make it easy to spread the good word and as they say on the IYB website, "moving from words to action."   Like any large organization, the intention is well meaning, but the delivery weak.
As we often mention on Green Bean Tuesdays, acting locally and doing it your way is by far the nest way to make things happen.   The major events for June pay have passed, but that doesn't mean that the rest of the month is not important.   One fun way to celebrate clean air day is to attend an evening with Car Stories at the Infringement Festival. Don't be afraid to step outside your own box of ideas.   Every effort counts when helping your mother.