The three North-American leaders are meeting this week in Ottawa for the Three Amigos Summit. It's the first summit in almost three years, and the last one for US President Barack Obama. This is relevant because both major party presumptive nominees Donald Trump and Hillary Clinton have recently claimed to be against the Trans-Pacific Partnership (TPP) and lean towards protectionism.
Prime Minister Justin Trudeau greeted his Mexican counterpart Enrique Nieto this morning. Obama is expected to join them to start the negotiations. Here's what is on the table (and what is conspicuously absent).
A Hope for Climate Action
Climate action is expected to dominate the talks this week. The leaders will discuss how to reduce methane emissions and encourage carbon markets and renewable energy.
The most important thing, both for the environment and the Canadian economy, is Mexico and the US's commitment to get 50% of electricity from renewable sources by 2025.
It is a remarkably ambitious target; currently, only 13% of US electricity and around 22% of Mexico's is from renewable sources. Hydro-electricity puts Canada at a great advantage by providing almost 60% of its energy (other sources like wind and solar provide 3%).
The leaders have yet to decide whether to include nuclear energy as an acceptable source. Nuclear energy produces very little greenhouse gas, but it produces radioactive waste that we don't know how to get rid of.
Including it would mean little to Mexico, because it represents only 3% of its electricity, but would be significant for the U.S, where 19% of electricity is from nuclear energy. For Canada, it means that around 80% of its electricity would be considered clean.
Leaders are expected to discuss how to facilitate the movement of all this clean power across borders. Whether nuclear energy is accepted or not, this would be a tremendous trade opportunity for Canada.
US and Canada have also committed to reduce their methane emissions by 40 to 45% by 2030 and are pressing Mexico to do the same.
Strengthening Relationships
Canada's relationship with its continental partners has been strained under the conservative government. Last year's Three Amigos summit was cancelled partially due to Harper's quarrel with Obama over Keystone XL.
Trudeau's election drastically changed the situation, as was clearly demonstrated when he visited Washington in March. It was the first official visit in nearly 20 years and it went along so warmly that Trudobama bromance quickly became a trending hashtag.
It is doubtful that the negotiations will go as smoothly with the next President of the United States. While a good relationship with a Hillary Clinton presidency is conceivable, the rising protectionist streak in the U.S will be harder to work around. Trudeau has expressed, as openly as he could, that a Trump presidency would be quite undesirable. Canada and Mexico are thus eager to get the maximum out of this last summit with Obama.
The relationship between Trudeau and Nieto has not had much chance to develop. But if this photo of them jogging together is any indication, it started off on a pretty friendly path: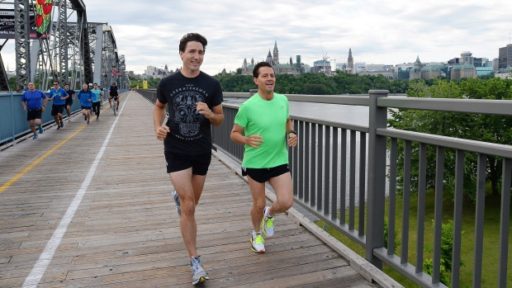 Trudeau's promise to lift restrictions on Mexican visas to Canada certainly goes a long way towards that.
Human Rights
Mexico and Canada want to sign an agreement on Indigenous rights. They will officially commit to sharing information about best practices for protecting indigenous people from violence, social isolation and exploitation.
This very vague promise is the only concrete human rights issue on the summit's agenda.
The Three Amigos Summit should be an opportunity to focus on human rights issues above all, argues Amnesty International in an open letter. The NGO is calling on the leaders of all three countries to stop putting illegal refugee and migrant children behind bars.
There are also considerable concerns over the civil rights in Mexico. 27 000 Mexicans have disappeared since the country started its famous war on drugs in 2006.
The absence of Mexico's civil rights as an issue at the summit is especially conspicuous, considering six people were recently killed in violent clashes between protesters and the police in southern Mexico. The teachers from the radical National Coordinator of Education Workers (CNTE) are blocking roads and train tracks to protest against the education reform and the arrests of union leaders. Footage shows police officers firing on civilians.
Activists are also pushing the Canadian Prime Minister to address women's rights in the Southern state. An appealing study revealed that a majority of detained women were sexually abused while in custody.