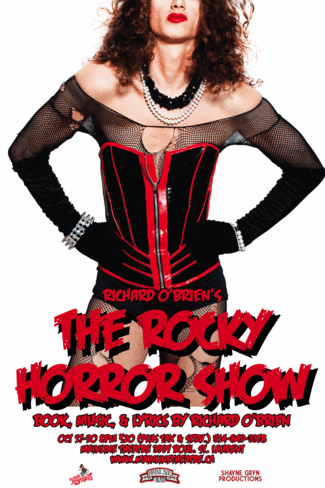 A ripped blonde muscle man in golden booty shorts, a transsexual mad scientist with a propensity for boldly expressing himself through song, a tap dancing beauty whose iridescent sequins glimmer like twinkling fireflies and a set of sexy phantoms clad in black lace – sounds like my kind of people! Who wouldn't want to come across this motley crew in a dark castle in the middle of the woods on a rainy night?? All this and more can be found at the Mainline Theatre in a spectacular new rendition of Richard O'Brien's infamous glam rock musical The Rocky Horror Show.
By now, you'd be pretty hard pressed to find someone who hasn't seen, or at least heard of, the cult classic film The Rocky Horror Picture Show. Midnight screenings, especially popular around Halloween, complete with costumes, props and audience participation have kept the film alive long past any of its predecessors in the B-movie universe. But before the sweet transvestite and friends time warped their way across the big screen, they were doing it on stages in London, Los Angeles and Broadway. Many of the show's original cast went on to star in the film, including the sensational Tim Curry as Dr. Frank N Furter.
This particular production, presented by Shayne Gryn and Mainline Theatre has a rather sparse set, with the chorus of phantoms filling in as set pieces and props when needed. The fabulous five-piece band sits atop a riser at the back of the stage that also features a number of television screens that act monitors when need be.
All the actors in the show were quite well cast, particularly Shane Adamczak as the nerdy, repressed Brad Majors and Alexia Gourd as Columbia, the tap dancing groupie whose mood swings from weeping to giggling with the single spritz of a magic spray. Antonio Bavaro practically stole the show in his hilarious rendition of Dr. Frank N Furter. Whether ad-libbing with audience members or simulating sex acts with both members of the newly engaged, naïve couple, Bavaro did so with a balance of domination, nuance and emotion. My favorite song of his was the Ziggy Stardust era Bowie-inspired "I'm Going Home", where we see a slightly softer side of our favorite Transylvanian transvestite.
Another highlight of the production was the lively choreography by Genevieve Lauzon (who also appears as a phantom), Amy Blackmore and Patrick Lloyd Brennan. They made effective use of a large cast by staging elaborate numbers with a seamless flow. Between the titillating dancing and the seductive costumes, there was so much good stuff going on that I sometimes didn't know where to look!
Unfortunately, the only member of the cast with a headset microphone was Bavaro. The rest of the cast shared two hand-held microphones that could have been a bit louder, as I found the lyrics were often drowned out by the band or the laughter of the audience.
The show runs Friday night at 20:00 and Saturday, where they'll be putting on a good ol' fashioned double feature at 20:00 and again at 23:00. Tickets are available through the Mainline Theatre website, $23 for adults and $18 for students.