Why do people get turned on by the chase? It is easier to feel tingles for someone who is out of reach. Why are the tingles so fucking important?
When someone is sitting there legs spread, waiting for me in worship, I always hold back. Thinking it's too easy, it's too good to be true, too sweet an offer to just blindly accept. Like a free cruise or money from a Nigerian Prince, there must be a catch. This incredible, smart, beautiful human can't possibly be ga-ga over me, can they? I always feel like the big green monster clumsily making my way through life.
The greatest loves of my life thus far have been unrequited, crushing on the ones who don't want anything to do with me. Loving those who are out of reach because I am addicted to the hurt. I don't know my own worth.
Spending years being easy because it is easier to be easy. Love who you can get, fuck the one you are with. Maybe something will grow? I guarantee it won't be love. Love is more often pretend than achieved, not to be taken lightly or deceived.
I want to worship the one who worships me back. I want to travel the world with someone who is proud to hold my hand. I want to be vegan together. I want to grow. Make art. Make love in beautiful places, touch me under a waterfall, hold me under the stars, kiss me in my car, let me know that I am not alone by simply being with me.
I have spoken of radical requited love before, but only now am I truly believing in it. Or am I? I don't know what I believe. In any aspect of my life really. I spend my days in a cloud of general confusion. But I do know one thing: "My love, my love, my love she keeps me warm." I have always loved that Mary Lambert song. I have to look in the mirror and tell me that I deserve it. The warmth of arms protecting me, holding something they cherish.
I know I am incredible. I do shit, I am someone, I fucking sparkle. I always knew that someone would come along and compliment me. Not just a color out of the tube, this person must me a mix of all the good, a new shade, completely original, wrapping their soul around mine in a sweet song, a delicate embrace, perfect understanding, and wavelength compatible.
I never want to be a wife. The fantasy still does not cross my mind. That word means property. I am a partner, in crime and happiness, bliss and misfortune.
I have been single for so long that I don't know what it's like to be dependent on another. I don't need to lean on you.
I have been contemplating polyamory for years, since I picked up the book The Ethical Slut in a radical bookshop in Indiana years ago. I never thought it was viable because I couldn't imagine finding even one person to love me, let alone many. But I see it. I see the beauty in never ending your options, never shutting yourself off forever. There is no be all end all. Love is fluid and ferocious. It is an organism, alive and pulsing, spewing.
Saying I love you is another thing altogether. I wonder if I have ever actually said it and felt it at the same time. I know that I have said it and I know that I also have felt it, but really there is a grey zone. I remember saying it in those early relationships, boys who wanted to wife me, I loved how they loved me. But I don't think I loved them, not really, I was not capable of it at that point.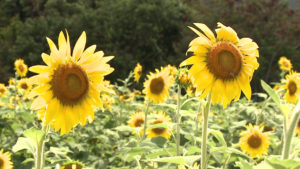 I have met someone. She is so kind, a daughter of the earth and stars, she makes my heart smile, she cares about animals, she cooks, she hikes, she is a musician. I can't find a single flaw in her. It is a feeling like no other, to hold someone who looks at you with wonder, looks at you like the sun rises and sets in your eyes. My flaws fade away when she sweetly kisses them. My beautiful sunflower queen stands now on serene mountain path that she built.
I want something to go wrong. I make things go wrong when I feel like I am not worthy. It is strange how easy this is. Strange how simple it is to just be together. I always feel like something has to give. Instead I need to just let it be, enjoy the bliss like a woman's hand on a canvas, spreading and pushing paint, blowing it with her sweet lips, spit.
She sent me flowers, big bright yellow sunflowers bursting out of a now forgotten moldy vase. Now dried and shriveled memories on my dashboard. I want to buy her a drum and plant a field of sunflowers for us to dance in. I want to twirl my dress for her.
Let's eat vegan donuts and listen to Ani Difranco. Let's dive into each other. Let's drive across the country. Let's paint on the same canvas, strapped between two trees in the forest, on a path that you built for me to wander down.
There is room for me to finally be happy. Room to explore. I harbor others negativity, I hold their pain in my heart until it is as unrecognizable as my own. I choose happiness. I want to spread legs and love, spread kindness and open doors of bliss and positivity, open arms to all humanity. Nobody is immune to loneliness. Everyone deserves this loveliness.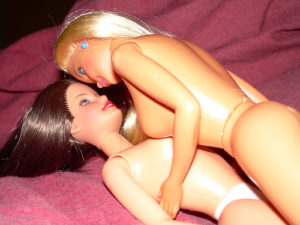 How does one exactly "do" lesbian sex? Fingering, fisting, eating out, scissoring? I was told it's awesome to grind your clit on a girl's tits. Dildos: double ended strap-on rabbit shake butt plug, give your clitoris a hug. Which is the top tonight? Switch bitch. I just want to touch and rub, rub, rub.
I have never fucked a woman with a strap on cock. I have always fucked women tenderly, not wanting to hurt them, but I know I like to be fucked differently. I need to fuck how I want to be fucked. Dive into masculine femininity, hot oozing butch, luscious layers of genderfuck brilliance.
Love is like an orgasm. Elusive. Freeing. Scary. Easy to fake, but not really. Not as common as you think. I still don't think I have had one – an orgasm or true love. Or if I have it hasn't been as earth shattering and mind blowing as the description on the back of the box indicates. Uncommon like the butterflies of blissful ignorance.
Back to the tingles, it always stems back to them. I can remember the moments that people have made me tingle. It lights up your whole body, makes you feel scared and alive. That means you are nervous, right? So the tingles aren't good? Do I ever make tingles erupt in her body?
Pins and needles in my lady parts, butterflies engulf my insides, flutter softly, swarm sweetly though my whole entire body, out my fingertips when I touch you. Yearning, CRAVING, full desire, want, need, must be with, dreaming in waking life. You are behind my eyes and I can see the future. I will run through our field of sunflowers, stroking the petals and eating the seeds to make sure it isn't a dream. Guess, I'm not as scared as I thought.