I was sitting in the local dive bar with a beautiful female friend of mine who happens to be transgender. As we were sitting there discussing lipstick shades, makeovers, and other various girlie things the conversation took a drastic change when I heard an employee of the bar say "No men in the women's bathroom."
Instantly we both perked up to make sure some horrible injustice wasn't happening. We were about to jump into action like wonder women to make sure that another trans woman wasn't being discriminated against. It is monumentally important to have each other's back. I stand in solidarity with my trans brothers and sisters.
Thankfully the bouncer was escorting out an obviously cis gender male identifying bearded man from the ladies room, who was most likely accompanying his lady to do some drugs or something of that nature. Ok, he had no business being in there, crisis averted. This time…
This opened up a greater conversation of what transgender people have to go through on a day to day basis. She is a woman using the restroom and has to deal with people constantly questioning her, "Why do I hear a man's voice in the women's room?" Wait until you see the person who spoke to make that judgement.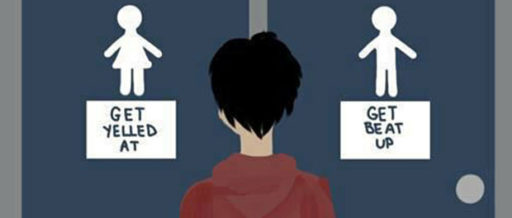 All women are real! There is no cookie cutter for a what a woman should look or sound like, we are all different and beautiful. Don't be ashamed of your broad shoulders or the fact that you tower over other girls when you wear heels. You are perfect, a real woman in a very imperfect world that doesn't know how to handle you. I am proud of my trans brothers and sisters, standing up for their sanity and being their true selves regardless of what society thinks.
Bathrooms are just the tip of the iceberg for issues that the trans community has to deal with. Perhaps one of the worst feelings in the world, yes, as horrific as being a female born into the wrong body, is being fetishized.
So many of my friends blur and defy gender barriers, they are warriors, the strong few who know what they need to do to become whole and satisfied. It is a long journey, with enough roadblocks that the douchbaggery and objectification is beyond unnecessary.
There is nothing worse than being treated like a "thing" rather than a fucking human being. The definition of fetish is an inanimate object that is worshipped, a sexual fetish is a form of desire in which gratification is linked to an abnormal degree to a particular object, item of clothing, part of the body, etc. Fixation, obsession, compulsion, and mania are synonyms.
Anything can be a fetish. Some common fetishes involve leather clothing, parts of the body such as feet, body modifications, food consumption, costumes, and what I am talking about today: body types.
Similar parallels exist between fat women and trans women, we have more in common than our trouble with shopping for clothes that fit and don't look frumpy. Try finding a sexy shoe bigger than a women's size 10, I dare you.
I am in no way saying our experiences are the same, I will never know what it is like to be transgender, or how difficult of an experience that is. What I do know is how it feels to be treated like an object and not a human being.
While many times both trans women and obese women are treated as non-sexual due to our stray from body image normativity, there is also a group of people that desire us only for our "deviations" and not for who we are.
I am a big woman, I love my body and I really don't care what people think of me. I get judged by other women and men all the time for showing off my body, "She's too fat to be naked on stage! how gross!" I have also had men interested in me only because of my body type, they never cared about me, just the size of me.
I am more than my body. I am a fully rounded human with emotions and deserve to be recognized as such. I remember the same boys in school picking on me and then trying to kiss me when nobody was looking. Girls need to learn that it is not right for boys to be mean to them when they have a crush, it's twisted.
A lot of times the fetishist hides their desires, keeping the object of their attraction as a deep dark secret. They maintain "normal" relationships in the hopes that their fantasies subside, and when they do not they seek some down low loving from the fetish of their choice, often leading double lives.
This is a big problem with the world we live in. People are raised to think that being attracted to a fat person or transgender person is a deviant behavior, something that they should be ashamed of and hide. It's total bullshit. All of us want the same thing, to be loved, to feel beautiful, wanted, adored. Nobody wants to be a dirty little secret, shoved back into the closet.
Trans women are so brave. Enduring a life of struggle to be their true self. They have gotten this far, found the strength to make positive changes in order to feel comfortable in their body, and as soon as you turn them into a dirty little secret sex object you take away all of that progress.
By shoving someone back into the closet you make them feel inhuman. I've spent a lot of time being a dirty little secret, too.
Nobody would proudly date a fat woman. You will never find a man with a body like that! BULLSHIT. I know that I am worthwhile, I know that my large body is beautiful, so is your small body, your trans body, your medium body, your cis gendered body, your female body, your male body, your brown body, your white body, your young body, your old body, YOUR UNIQUE BODY.
Demolish unrealistic archetypes. All bodies deserve proper credit, nobody should ever be treated as subhuman for someone else's twisted pleasure. Celebrate your uniqueness, respect yourself, you are a lovely and imperfect creature, just like everyone else.