On Wednesday indigenous artists and community organizers lead the festivities across the country. In Montreal, there was the obligatory event at tourist-heavy Place des Arts as well as a celebration in Cabot Square, which is perhaps quainter, but much more organically attached to Native Montreal.
"There is a very strong native presence across the city today, but it just reminds us of the importance of this presence 365 days of the year," said Quebec minister for Native Affairs Goeffrey Kelley in a short address to the crowd at Cabot Square.
All afternoon, Cabot Square was alive with Hoop dancing, traditional singing and rock music. Spectators could also visit various booths to try their hands at indigenous crafts, stop by the reading tent or buy handmade jewelry or clothes.
Performers from all nations
For Alexandra Loranger, the co-host of the event and a specialist in indigenous rights, celebrating Indigenous Day in Montreal is all about sharing and learning from one another. "It's important for me to be here today to be able to celebrate my identity and at the same time to discover others," said the Attikamek jurist, underlining the diversity of the artists present.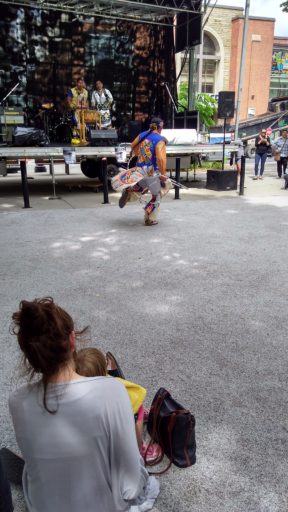 Moontee Sinquah and his two sons came all the way from Arizona to open the show with an impressive spectacle of traditional hoop dancing, immediately attracting a supplementary crowd of curious onlookers.
The notorious Buffalo Hat singers continued the show with more traditional music. Aidan Thorne and Antopola performed calmer, more modern sets.
One of the highlights of the show was Kelly Fraser, a young Inuk singer from Nunavut, who brought the crowd to their feet with a pop mixture of English and Inuktitut. The Mohawk group Corey Diabo Band closed the show with a lively rock performance.
"It's so beautiful to see so much people and so much pride," commented Aidan Thorne, a Concordia student from the Cowichan First Nation in BC. Thorne, who also goes by the name of Little Fire, describes his music as Canadian soul.
One day a year
For Toronto native and member of the Ojibwe Nation Cedar-Eve Peters, it was beautiful to see all the diverse native cultures represented and celebrated for one day of festivity. It was also a harsh reminder of their unnatural erasure in everyday life.
"Living in Montreal or Quebec, I find that people get more blatant with racism, so when we have events like this it's great because we have people from all walks of life come through and they are actually genuinely interested in what's going on," she said.
Indigenous Day is a rare opportunity for her to sell her own crafts and jewels, while enjoying the various performances of other indigenous people. "It's a good day to share that knowledge and to keep traditions alive. It's great, but I don't know, I feel like there shouldn't just be one day of the year of recognition. Every day of the year we still exist."
Alexandra Lorange agrees that there is a lot to be done in the city and the province to keep Native people out of oblivion on the other 364 days:
"I tell myself we're taking small steps, slowly but surely… but I do think we're behind and we could do a lot more. We could see [indigenous culture] on a more equal footing, and not from the perspective of a majoritarian society that allows a small moment for native people to be there."
She believes that the media have to do their part to get there, and start covering indigenous affairs in their entirety, not just their problematic parts. "Today, all the mainstream media – at least on the anglophone side – have received the invitation and they are not here," she noted, "that's a real shame, because it's something very constructive that is happening."
Jules Beaulieu, who was also selling his own creations in the square, commented on the common erasure of Native history. "I'm here because for me, it is important to remember that indigenous people have been here for a long time. 150 and 375:  that's European, people have been here for ages," he remarked, referring to the summer-long celebrations for Montreal's 375th  and Canada's 150th anniversaries.
In an effort to reclaim the Native history of Montreal, Marie-Ève Drouin-Gagné from the ethnography lab of the Milieu Institute at Concordia began a project of photovoice in which indigenous users of Cabot Square are invited to tell their own stories about the square through photos and captions: "The idea was also to go with the 375th; saying  this is kind of a colonial narrative. So what about making some space for other narratives that are often untold?"
Today is not National Indigenous Day anymore, but indigenous people are still here. And we should all find a way to keep in mind that their identity is not a Christmas decoration to be put away until next year's holiday.