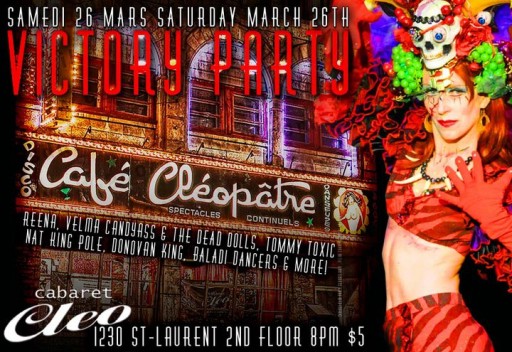 "The people united can never be defeated!"
While that slogan heard at protests around the world holds true, it generally does so on a conceptual and defensive level. Strength in numbers is strength for sure, but does it ever go beyond that? Well, sometimes it does. Sometimes the people united can actually defeat much greater foes. That's exactly what has happened in the case of the artists of Café Cleopatre versus the City of Montreal and the Angus development corporation (SDA).
If you haven't been following the story from the get-go, allow me to recap:
In 2009, the lower Main was going through a rebirth of sorts. New venues like Club Opera and Katacombes were springing up to compliment more established places (and by established, I mean over half a century established) like the Montreal Pool Room hot dog joint and Café Cleopatre.
The Cleo is housed in a historic building and features entertainment on two floors. The ground floor is a strip club, but not just any strip club. Yeah, there are your traditionally sexy dancers in their 20s, but there are also women of different shapes, sizes and ages working there. It's one of the few places in town that doesn't discriminate.
The second floor is a whole other story, one of burlesque, drag and fetish. The space is home to many performers doing shows that are too risqué for many other establishments but in perfect keeping with the Cleo and the history of Montreal's Red Light District where the venue is situated.
Meanwhile, the Tremblay Administration was planning to remove all this culture from the area which had been designated part of the Quartier de Spectacles. Their idea for this new entertainment district? An office tower! They handpicked developer Christian Yaccarini and his company Angus for the project and offered him a no-bid contract.
This didn't sit well with the artists who performed at Cleo, historians, ordinary citizens and pretty much anyone who cared about Montreal's culture and heritage. They let their voices be heard at the Office de consultation publique (OCPM) hearings and in the media.
The OCPM took their side, ordering a re-think of the project. Yaccarini was ready to throw in the towel, but Tremblay wouldn't hear of it, strongly voicing his support of the project, proclaiming it on track.
Over the months that followed, Angus bought out Cleo's neighbours, leaving their former businesses empty, giving the rest of the block an increasing air of desolation. Eventually, the only other holdout, The Montreal Pool Room, moved across the street and Cleo was all alone.
But the people who worked at, performed at and loved the Cleo were alone together. They kept on the offensive and opened up two new fronts: political (by speaking out at city council meetings) and legal (Cleo owner Johnny Zoumboulakis challenged the expropriation in court). They also made videos and even appealed to Prince Charles for support.
For a while it looked like it would be a battle to the end, but then a few weeks ago, Angus threw in the towel, promising to alter its construction plans to accommodate the Cleo's existence by building around it and then the Tremblay administration, who until now had been hell-bent on replacing the establishment with an office tower, followed suit.
So this is what victory feels like. It's not just a victory for Montreal's culture and heritage, though, it's also a victory for a group of people that worked tirelessly to keep this space they cared about alive, all the while continuing to do their art and in many cases (cause underground artists rarely survive off their passion alone) their paying gigs as well. This isn't just David versus Goliath, it's David holding down a day job and fighting Goliath in his spare time.
It's victory for people like Club Sin's Eric Paradis, the Dead Doll Dancer' Velma Candyass and Drag Queen Reena, performers who have made the upstairs of Cleo a space worth preserving. It's victory for Emilie Laliberte of STELLA, who fought hard to preserve a space where sex workers'rights are respected. It's victory for historians and educators like Louis Rastelli, Viviane Namaste, Dinu Bumbaru and Donovan King who think the Red Light is as Montreal as a two-cheek kiss and shouldn't be forgotten.
It's also victory for Johnny Zoumboulakis, a man who fought for over two years for one thing: the right to work. For over thirty years, he has run a successful business and been part of a community on the lower Main. Now, he can continue to do just that.
All these people will be celebrating their victory Saturday night at the Cleo and are inviting you to come celebrate with them. Come raise a glass to Johnny Z and the Cleo and party the night away celebrating a victory for anyone who loves Montreal's culture and heritage.
The Café Cleopatre Victory Celebration hosted by Reena and featuring performances by Nat King Pole, Tommy Toxic, Velma Candyass and the Dead Doll Dancers and more starts tonight, March 26th, at 9pm (doors 8pm) at Cabaret Cleo, 2nd floor of Café Cleopatre, 1230 boul St-Laurent, cover is $5 with all proceeds going to STELLA
OCPM photo by Chris Zacchia
More Cleo? More Fun? Facebook us.