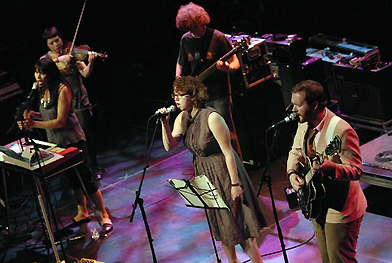 "Music belongs to those who make it," quips vocalist Mark Hamilton of Woodpigeon, and he makes it with eerie reveries and suddenly we all feel like it belongs to us. His dusty vocals and grassy hills of tenuous sound laid out sleepily in the background trot lackadaisically through folked-up brain space and conjure a wistful pensiveness that's as tangible as the pillowy dreams Woodpigeon sends listeners to.
The Calgary eight-piece band weaves in flute, accordion, piano, violin and has gotten thrown into backwoods beauty comparisons to scary-fairy Sufjan Stevens and broken poetic masters Simon and Garfunkel.
Five albums, seven EP's and two singles later, Woodpigeon is bringing their empyrean gossamer works to Divan Orange this Saturday night, and will be joined by Jon Janes, aka The Mountains and the Trees and former Hidden Cameras' members and Daniel Johnston band member Magali Meagher – a.k.a. The Phonemes.
Self-described as Folk-n-roll, Janes has been going back and forth from bigger band styles to getting on stage solo, crowded in by banjo, mandolin, ukulele, harmonica, bells, drums, guitar…Hailing from Newfoundland, Janes released his EP, A hop, skip and a jump in 2009 and his album was actually named one of the ten best folk albums in Canada.
With rollicking numbers like Minimum Wage Lovers, Janes brings you into the simple, clean life of being an honest Canadian kid rambling around and keeping it real, warm and twanging, grass symphonies and lush, leafy instrumentals. More and More and More, sings about haunted love and with an aching violin and traveling drums, audio paintings of trains and heart pain, it seems to be the best showcase to what Janes has in store for the Divan Orange crowd, and future crowds in general.
Doors open at 8:30pm at Divan Orange tonight, and tickets are $12 at the door (if not sold out), or 4 for $34.
F the line, so get them online @ indiemontreal.ca.
Photo cbc.ca