As I figure out what direction my life should take next, I'm enjoying my time living in downtown Toronto with a house full of musicians. With my room on the main floor of the house, I often overhear interesting conversations at all hours of the day and night. This past Saturday I found myself drawn to get out of bed early as I overheard the conversation going on in the kitchen:
"Do you have the bag of sores?" one of my roommates said cheerfully as bacon sizzled in the background.
"It's right here! Where's the jugs of blood?" the other responded lazily, putting on the coffee machine.
Pulling myself from bed, I discovered that my roommates were going to spend the day working on a zombie themed music video for their band BLIX, with the climax taking place at the 9th annual Toronto Zombie Walk. I was immediately eager to help out, since I hadn't worked on a video shoot since the last episode of the FTB web show JC Sunshine's Fireside Chat.  I was also just as interested to learn what this whole Zombie walk thing was all about.
Turns out Zombie Walk is not a purely Toronto phenomenon. On October 22nd Zombies infested major cities all across Canada, including Montreal (seriously, why haven't I heard about this before?). In Toronto the march began and ended at Trinity Bellwoods Park. Perusing the Zombie Walk website you see that one could have their "undead memories preserved forever" by signing up for the pre-march photo shoot, and ghouls were also on hand to "give you a severed hand with any blood touch ups needed". One couple it seems was so interested in making their Zombie Walk special that they decided to get married that day, in full zombie gear.
As a crew member of the BLIX video shoot I was happy to have a warm outfit on that crisp Saturday afternoon while my companions ran around in their skimpy zombie costumes. But I must admit, I was a little disappointed my warm jacket wasn't also covered in blood and guts like everyone else. It was a bizarre but delightful environment to be around; I thoroughly enjoyed seeing how elaborate people of all ages were in creating their undead attire.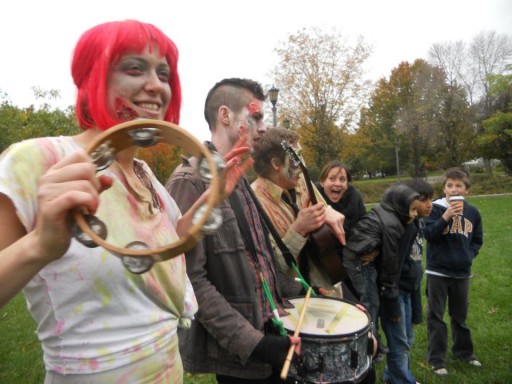 Taking a break from the video shoot I was fascinated to wander around Trinity Bellwoods park, taking pictures and chatting with people at the event. Everyone there was happy to share with a stranger their interest in Zombies. "This is her second walk!" one mother happily told me as I took pictures of her young daughter. The toddler ran around the park in a princess dress covered in blood. "Can you give the lady your best zombie growl?" the mother asked her daughter earnestly before they left to go take part in the march. The whole scene made me giggle. You gotta love baby zombies.
Zombie Walk takes place every October in major cities all across Canada. Also make sure you check out BLIX's video "Moon Song" which debuts on October 29th. Check out BLIX's tumblr page:   http://blixforce.tumblr.com/