Dear clients, your attention please," the announcement (in French) rang out with a sense of self-importance and urgency across the platform, "we are currently testing the announcement system." Fair enough, I guess, though a little amusing in how it was so anti-climactic. Then it hit me: the voice had just called us clients.
We weren't in a store. We were waiting for a train in a Montreal metro station, part of a public transportaion network spanning the island. The operative word being public. Yes, I did pay my fare to ride, as did everyone else on the platform (in theory), but that doesn't make me a customer.
Call me passenger, traveller, transit system user, citizen even, just please don't call me a client. I'm not. Just like the Société de transport de Montréal (STM) isn't a business, or at least it shouldn't see itself as one.
It's a public utility that does need to charge a fee to function. It also should balance its books, but it should not be run like a for profit corporation.
Unfortunately that's not how the brass sees it. Just look at how they're policing the network: with real city cops. Now while the Montreal Police are, presumably, dealing with actual crime in the transit system (as they should), every time I see them, they're doing something else, namely checking for proof of payment. They stand in lines four or five deep, stopping people entering and leaving the metro. I've even seen them board buses to check for that little ticket stub that you're supposed to keep (whatever happened to faith in the driver, but I digress).
The logic put forth by those behind this scheme, or at least by those tasked with enforcing it, is that (as one cop told a friend of mine) the system loses money to fare jumpers. But how much money are they wasting dedicating resources and paying salaries to prevent those lost revenues? Surely more than they lose. Well, not if you factor in the hefty fines the cops give out to those they catch.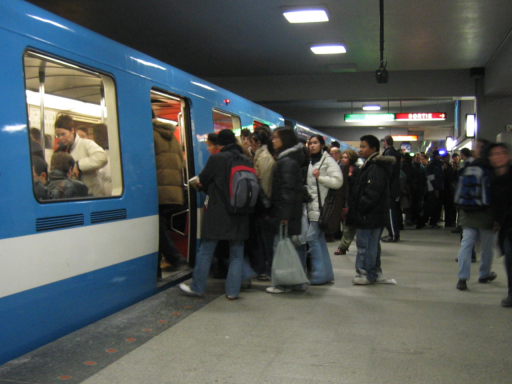 This isn't about stopping passengers who are trying to avoid paying $3, it's about generating large amounts of revenue through punishments. It's not about saving money, it's about making it from the public and using an actual police force to do it, intimidation tactics and all.
Let's put this in perspective. Imagine a private business, say a clothing store, using actual cops to protect its business interests. Not fair, right? What makes that business worthy of public, armed security and the flower shop down the street not?
But wait, proponents of the armed cop ticket checkers on the transit system may argue, it is fair because the metro and bus network isn't some ordinary private business, it's a public utility and therefore, a public police force is a justifiable organization to use as security.
I'm confused. If they're arging that it's a public utility, which it is, then they may be able to justify the use of cops, but they can't in any way, shape or form, justify using those cops to generate profits from travellers as though they were customers. Nor can they call members of the public who use this public utility clients or customers, as apparently they have started doing.
I realize they're not the only utility that behaves like this. Hydro, for example, has been treating everyone as customers for years, but that's a much larger nut to crack and one that people living in a modern urban setting really can't avoid (well, there is off-grid, but that's tricky). Public transit isn't in the same boat.
Some people have cars, some people have bikes, some people have money for taxis and many have use of their feet. There are options. Public transit is an option that should be encouraged and promoted. Many agree with that notion, but not all of them, or more specifically not most of those in power to change things, realize that the way to promote a public utility isn't through an ad campaign, it's through making the service accessible to as many as possible and not making people feel like they are entering a profit-driven police state every time they head underground to get around.
Higher transit fares discourage people from riding. Getting rid of the six ticket pack (check it out, it just happened) doesn't help either. Neither does not accepting monthly or weekly passes or even the two ticket discount when entering the Montreal metro system from off-island. Yes, I know that it involves a deal with one of the two other transit systems, but I think it's worth it to either negotiate a better deal or else bite the bullet and pay the small expense that makes it possible for people to not have to pay different rates depending on where they enter the metro. Think about it, unified pricing helped strengthen the New York subway and the subway helped build the city.
At the very least, the STM should realize it doesn't have a monopoly and start acting like a true public utility that works for the benefit of the public. It needs to realize that the citizens who use the service may be many things, but are in no way mere exploitable clients. Then, the statement in the following song would ring true…