The J train stopped on an outdoor platform stretched out over Marcy Street and we exited and descended the metal staircase for the second time in as many days. The novelty of such an exit must disappear quickly for the locals, but for someone used to the organized monotony of the Montreal metro system, even this little bit of NYC Subway difference was interesting.
Marcy wasn't bustling like it had been the day before when we arrived late afternoon, hoping to explore Williamsburg. Now it was nighttime and the frenzied pace of people coming back from a day of work in Manhattan had given way to indoor celebrations and a different kind of frenzy.
When we arrived at Death by Audio, there was already a healthy crowd inside and the show was in full swing. The sound quality and mixing in this basement loft venue were quite good, which makes sense when you consider that the space was started three years ago by the guitar pedal company of the same name.
According to Justin Sherry, the venue's current booker and the evening's soundman, Death By Audio features bands playing a variety of styles: everything from jazz to metal. This Tuesday night in particular, there was quite a bit of metal being offered.
The four-band lineup featured psychedelic metal from Elks, mystical metal from Wizardry and to change things up a bit, Afuche, who describe themselves on MySpace as minimalist progressive. All three are Brooklyn-based bands.
We had arrived late and spent our time between the show room and meeting friends in the second room through the curtains which served as a chill space. The cinder block and brick walls of both rooms featured murals by local artists, which both stood out and blended nicely with the atmosphere.
As such, we only caught one full set and it was from Pembroke Pines-based Hyimn, an incredibly tight, fast, band playing original songs fast and heavy. They are a three-piece comprised of Danny and Jaz Sainz both on guitar and vocals and Maria Chu drumming and singing. Female drummers aren't common in rock and even rarer in metal, so Chu's solid rhythm was a real treat.
We decided to stop off for a drink on our way back and happened upon Woods. It turns out Tuesday was karaoke night and the place was packed. Not only that, almost everyone was a good singer. To describe this place to our Montreal readership, try and imagine the Cock n' Bull atmosphere and prices in a space that looks like Billy Kun.
The place had a real community vibe and we out-of-towners were welcome by the locals. We met quite a few people and even got up to sing. Among the clientele were some fellow bloggers and artistic types.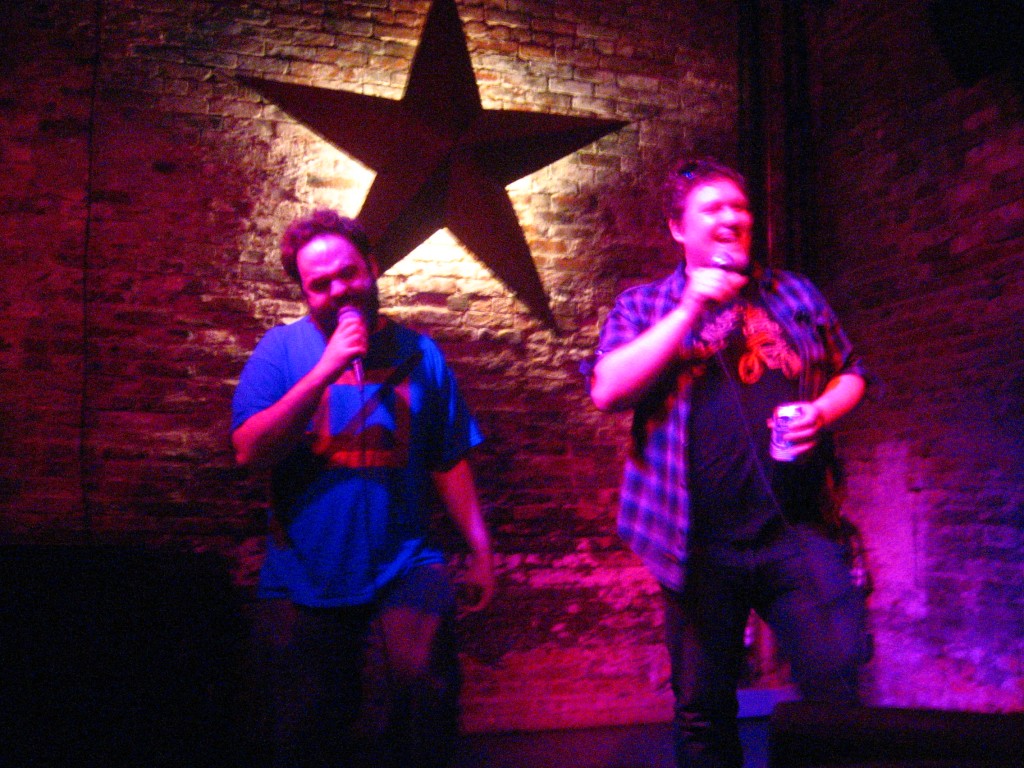 In fact, we met quite a few people who were involved in new media in the Williamsburg area. We had visited Bruar Falls , another showbar where we didn't have the time to catch a show, the day before and revisited it again the following day and met people involved in web video and blogging as well.
Most people think Manhattan when they think New York and Manhattan does have its charm. Williamsburg, however, is where I felt more at home. While there may be no sleep 'till Brooklyn, in this part of town, there really wasn't any reason to sleep.