Two Hours Traffic knocked out a punchy set of tunes to promote their new album Foolish Blood on Thursday night.  The energy of the audience was both audible and visible as the crowd sang and danced with fervour at a packed Lee's Palace. Two Hours Traffic is a foursome made up of Liam Corcoran (lead vocals and guitar), Andrew MacDonald (guitar, back up vocals), Nathan Gill (bass) and Derek Ellis (drums). They didn't let up throughout the course of their set, blasting out their indie power-pop songs including their new single "Magic," a great sing-along number.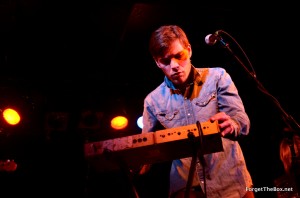 Their sound is reminiscent of a really good garage band, an aesthetic captured even on record that gives the band a unique angle which allows the music to retain a raw, emotional character. Two Hours Traffic sound similar to Boxer the Horse, at times Paper Lions, or Josh Ritter when he plays with a band.  You can catch them Friday, March 22nd (tonight!) at Le Divan Orange in Montreal.
They're probably best known for their hit song, Stuck For The Summer,
but check out their NEW official music video for Amour Than Amis!