On a freezing Tuesday night in February a crowd fills the entire sidewalk above Fairmount on Parc. What? you cannot help but ask yourself, could possibly bring this strange group of people together in this arbitrary place at such an inopportune time? You attempt to classify them, but the results are inconclusive. Age? A striking range from mid-teen to mid-fifties. Style? Punks, hipsters, girls in tight skirts, dads in khakis, bros in Phish shirts…
If you don't know what united these brave souls facing the cold winter weekday night, however, you missed out; because they were all about to see the legend-in-making that is Ty Segall.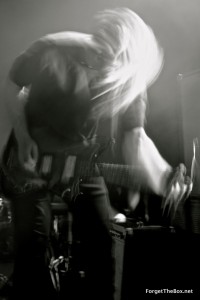 Inside, Cabaret du Mile End is packed to the brim of its sweaty, claustrophobic, unnavigable 500 person capacity. No one can move and no one knows where their friends are, but no one is bothered. From the moment Ty played his first notes to the end of his twenty minute encore, the crowd did not slow down. Moshing, crowd surfing, guys with cameras dodging security guards on stage; by the end of the first few songs, shirts were removed and beer was exchanged for water. By the show's end, sweat and battle wounds were exhibited with pride.
Whether immersed in the mosh pit or futilely attempting to avoid its whiplash, the crowd's attitude appeared ubiquitous: Ty Segall is sensational. With thrashing guitar, heavy drumming, and vocals ranging from indecipherable shouting to delicate acapella harmony, Ty has crafted his very own addictive blend of psychedelic garage pop. My recommendation? Join the crowd, this music is for everybody.
Photos: Eva Goodman