On May 30, 2010, the Mavi Marmara led a flotilla of six ships and nearly 700 people across the Mediterranean Sea on a mission to deliver humanitarian aid to a blockaded Gaza.   The flotilla was confronted by the Israeli military, whose soldiers shot and killed nine people on board the Mavi Marmara.
One year later a flotilla of 10 ships and over 1,000 delegates from 20 countries, including France, Germany, Italy and the U.S., will sail to Gaza in late June.   For the first time a Canadian boat, the Tahrir, will be part of the flotilla, transporting 50 people, including Canadian and international delegates and members of the media.
Today, Forget the Box presents the story of five of Canada's 32 delegates, their motivations and their state of mind as they prepare for a humanitarian mission with the highest of stakes.
The Mediator

She called back to make sure there was no misunderstanding.   The 59-year-old mother of two wanted to ensure that her contribution to the Freedom Flotilla II was not being overstated.   Modesty and a penchant for calm discussion came through over the phone as Lyn Adamson talked about her role in the mission of the Canadian Boat to Gaza.
"I've been interested in social change all my life and I've seen how individuals and groups have been able to make really significant changes and that's what I'd like to see happen," she said.
Adamson is the co-chair of the non-governmental organization Canadian Voice of Women for Peace.   She is also a mediator and trainer in non-violent conflict resolution and will be helping to deliver a two-day training session on these skills to the Canadian boat's passengers.   "None of us have to do [something like this] very often so I think we all need some preparation," said Adamson, "this is different."
Adamson is keenly aware of what happened with last year's flotilla and is naturally nervous, but when asked if her children were afraid for her, she laughed. "My children were writing Jack Layton and one of them has never written a political letter before," she said. "Politicians pay attention when something resonates with the public and the public lets them know."
Adamson, a Quaker, said one of the most important things she's been doing is trying to rally political and diplomatic support. "That's our safety, you know.   Our safety is not us and what we do in the boat necessarily," she said, "but it can be what is said and done behind the scenes as well as publicly before we go."
Two NDP MPs had lent their support to the Canadian Boat to Gaza, but reportedly after speaking with his leader, Alexandre Boulerice of Quebec retracted his backing, leaving only MP Alex Atamanenko from BC's interior backing the mission.
Parliamentarians from all parties have distanced themselves from the Canadian boat with New Democrats and Liberals suggesting UN strategies to relieve Palestinians' suffering under the blockade and Conservatives calling the flotilla provocative.
Non-violent protest from within Gaza and the West Bank, however, has been garnering greater international attention recently. "What we want to do is bring some visibility to what Palestinians are doing," said Adamson. "I think [non-violent protest] has great potential but only if it's visible, it has to be visible and seen and supported and that's exactly what I've been doing."
This will be Lyn Adamson's second trip to the Palestinian territory. She was in the West Bank city of Hares with the International Women's Peace Service for two weeks in 2004.
The Survivor
Having been held captive for four months after being kidnapped in Baghdad, it might seem unlikely that 38-year old Harmeet Singh Sooden would want to be part of a flotilla with an unfortunately fatal history.   Yet the man who was bound and imprisoned next to James Loney as part of a Christian Peacemaker Teams mission in Iraq and who Loney calls "a man of the highest integrity," is committed and feels that certain principles need to be represented.
"We are responsible for what we do and what we can do," said Sooden in a matter-of-fact email.  He also said the privilege of people in Western countries confers proportional responsibility.   Sooden believes that part of that responsibility, and the message that he wants to get across to people here, is that Canadians should find out more about Canada's role in the Israeli-Palestinian conflict.
Perhaps because of his previous experiences, Sooden, an engineer who works for a health software company in New Zealand, seems less anxious than his fellow passengers on the Canadian boat. "I assess that the risks are relatively low. My fellow passengers on the Tahrir are highly experienced," he said.   "International media is focused on Israel and the fact that we are citizens of Western countries will provide us with a measure of protection."
Still, Sooden admitted there will be risks. "Deaths are very unlikely on this non-violent initiative, but it is impossible to predict what will happen."
The Canadian boat will be carrying medical supplies that are among the goods needed most in Gaza. "We are also carrying human rights defenders," said Sooden.  "If we reach Gaza, I intend to volunteer with the International Solidarity Movement (ISM) doing accompaniment work and recording human rights violations."
The Canadian boat also intends to bring back goods that the people of Gaza would like to export, though the blockade's tight controls are likely to make these goods largely of symbolic nature.
Harmeet Singh Sooden was part of a Free Gaza flotilla initiative in 2008 after being denied entry to Israel, assaulted and detained by Israeli Defence Forces on the way to Palestine for humanitarian work.
The filmmaker and the lawyer
His father is an international filmmaker and documentarian so he understands his filmmaker son's involvement with the Canadian Boat to Gaza.   It's not as easy for 32-year-old Santiago Bertolino's young son.   At only four years of age, Bertolino's son has already come to understand the danger involved with the words Palestine and Israel, so much so that Bertolino has taken to telling him he is only going to Greece to save him the anxiety.
Marie-Ève Rancourt's family and boyfriend are no less anxious, and though they wish someone other than her were going, they support her participation.   The 33-year-old Rancourt is uniquely placed, as a lawyer, to act as an observer and to document human right violations for the Ligue des droits et libertés, a Quebec human rights organization and member of the International Federation for Human Rights, one of over 150 organizations that has lent its support to the flotilla.
Bertolino and Rancourt sat side by side in the kitchen of a second-floor Montreal apartment on a quiet, sunny afternoon.   While discussing the boat's mission, the pair also described the vessel they have yet to see.
About 25 metres long, the Tahrir is a former Greek island ferry converted to be able to take to the high seas.   With no sleeping quarters, the 50 or so passengers will share the space of the main deck to lay out sleeping bags and mats. "Everyone will be together so there will probably be a good vibe," said Bertolino as the two shared a laugh.   "As long as we don't all get sea sick at the same time, we should be fine" Rancourt joked.
At times nervous, the self-described "cinéaste engagé" and the relaxed holder of a Masters in law spoke with clear heads about what they are getting into.
"As a Canadian citizen I want to raise the awareness of Quebecers and Canadians to mobilize more people and to force our governments to play a more active role in favour of peace" said Rancourt. "For me, participating in this trip is really the extension of my civil engagement here in Quebec, which means being active in demanding greater respect for human rights in Palestine."
"I'm going as a filmmaker, but also as an activist" said Bertolino. "So unlike maybe a journalist from Radio Canada, I'm not simply an objective observer." And that will mean making choices.   "There will be moments when I want to take a position," he said, "so that's when I have to decide whether to keep filming or whether to participate in the non-violent resistance."
Bertolino's interest lies in what he sees as the changing nature of civil society in Palestine and what he calls the phenomenon of "people to people."   "They're trying to make links to the international community," he said. "They're not working through the Palestinian Authority anymore, so they're putting aside their own political bodies and trying to make direct connections with citizens around the world."
Santiago Bertolino has been involved in Palestinian solidarity initiatives for the last three years, including the Gaza Freedom March in Cairo in late 2009.   This will be his fourth trip to the Middle East as part of these initiatives.
Marie-Ève Rancourt has traveled widely in Latin America and Asia, including for human rights work in Cambodia. She expects to return from the flotilla even more engaged in the solidarity movement than before.
The Teacher
Robert Lovelace and the state of Israel were born in the same year.   Better known as Bob, the 63-year-old father of seven and lecturer at Queen's University has followed the evolution of the conflict between Israel and Palestine for many years.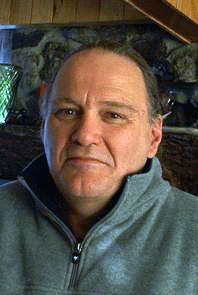 A former chief of the Ardoch Algonquin First Nation, Lovelace is perhaps best known in the media for his role in blocking uranium exploration in Sharbot Lake, Ontario in 2008.   For his troubles, Lovelace spent over 3 months in prison before being released.   Now, even in the face of what happened with last year's flotilla, he has higher hopes for the Tahrir.
"There's always room for progress, there's always room for positive outcomes," Lovelace said.   He thinks there's a will on the part of people in Israel and Palestine, activists and supporters of the peace process to move things forward, what he calls "restoring self-determination to people that have lost it."
Lovelace's stepfather was an aircraft mechanic who was working in Israel in 1948 and supported the creation of the Jewish state.   His stepfather talked to him about that time as Lovelace was growing up. "He had lots of Palestinian friends and he was sorry that the whole thing had deteriorated into this war," said Lovelace over the phone from his home outside of Kingston.
A teacher of indigenous studies, Lovelace sees several parallels between the history of Palestine and the European settlement of North America.   "Many Palestinians left their homes to avoid conflict in the hopes of returning after things settled down and they weren't allowed to return," said Lovelace.
"And that's certainly the case with our people.   As settlement took place in Canada our people were driven into the far bush, they were absorbed into settler towns and had to make their own way," he said.   "They were made refugees in their own land."
And despite his own history of non-violent resistance and wealth of experience, even Lovelace has concerns over his safety. "I'd be a fool if I said no," he said. "My family's anxious and, you know, we're all concerned that things might get out of hand, but we don't want that to happen."
Still, Lovelace realizes that protest in Canada is not the same as protest in the Middle East. "We're going into a part of the world where violence is far more normalized and the value of life is far less than when [aboriginals] face off with the Ontario or Quebec provincial police," he said.   "There have been casualties among aboriginal protesters, but we're going into a situation that could be far more volatile."
Central to much of Lovelace's motivation for resistance is the aboriginal struggle against colonialism. "Bringing an end to colonialism of any sort will always involve conflict," he said.   "What's important in conflict is for both sides to understand each other and for there to be a very high degree of predictability."
This will be Robert Lovelace's first trip to the Palestinian territories.   He plans to bring the real world experiences of the flotilla back to the classroom and his students at Queen's University.
Photos courtesy of   tahrir.ca and Tomas Urbina. For more information on the Canadian Boat to Gaza please visit www.tahrir.ca