I'm a POP Montreal (POP MTL) virgin. That's right, well, sort of (it's a short story that begins with the Arkells and ends with Bran Van). So, all this fun and excitement surrounding the POP Montreal   Festival has really made my nights rather sleepless. This is not a complaint. It's a statement.
Being from Halifax, I don't know all the bands in the hood of Montreal (MTL) yet. This is cool stuff to me. For example, last night I wandered up my street to Parc Des Amériques and found myself immersed in the Pop On the Main street fair. It was here that Dead Messenger and Desert Owls exposed their selves to me (not literally, don't be a perv) for the first time. Before we get to the goods, here's the DL on Pop On the Main.
Pop On the Main is part of the triangle that is POP MTL and Nathan Munn's UnPop MTL. UnPop focuses on revealing MTL's best local and underground bands to the rest of us unaware and uninvolved music goers for free. Sweet Deal right? Yea it's a sweet deal. The best part of this sweet deal is that it allows room for growth, discovery and awareness within the MTL music, arts and culture communities. The basic concept was originally created by Nathan and centers on the idea of erasing the biases and financial gain that come along with favouring big bands and dismissing local talent .  Sound familiar? Yup, it's the thing to do these days.
So, of course I'm gonna support the local cause and to me there is nothing better than spending a Thursday night (which really should be renamed Friday in the world of MTL) drinking beer, being outside and watching old grey, bearded men rock it out.   Not to mention the various characters that float in from the street and add life to any outdoor event aka. the man I think is Neil Young's long-lost twin bother.
Anyway, Dead Messenger (DM) and Desert Owls (DO) are new names to me. Of course, being the nerd I am, I did some MySpace research. During the fact-finding and listening MySpace session I came to admire both of these bands for their ability to shift the scene from a drawn-out, indie electro pop/emotional trip to creating an environment in the park that makes the audience feel as if they're dancing in the middle of DM and DO's drive-way, listening to their music echo off the cement walls of their garage, which I'm sure is an effect both bands create anywhere they are playing.
I'm going to be honest here. I may have not been in the most sober state when DM was playing (I think this is expected   when beer is two for seven dollars and I got to the park at 5pm). Either way, on my way to the beer tent I couldn't help but bounce a bit. Literally, I was walking and bouncing. I then began to notice that everyone around me was bouncing too. DM seemed to have pulled away that drained indie quilted blanket draped over some us and put that witty-ripped jeaned-pavement-show smile back on our faces. Which, in my opinion, is really needed right now to help cure the indie coma we've all surrendered to (or maybe just me) for the last couple of months. Desert Owls does this to the soon-to-be super fans too.
Desert Owls really remind me, for some odd reason, of a band I know back home named Gloryhound.   But, you see there is a slight loud, rocking and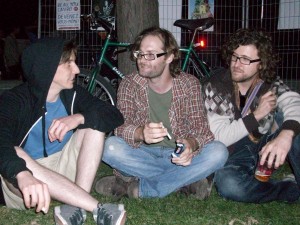 screaming difference between the two; Desert Owls gets the rock over the pop. This is what got me. Desert Owls came on to that flat-rocked-arced stage and sent out an aura wave of dance and stimulation to us half-drunk crowdies. This band wants you to get up and you do get up. You do the old head nodding, feet tapping, body shaking dance (you know which one I'm talking about). And it's a natural reaction to their music. It's not the forced, "I'm trying to be cool and nod my head," deal. It's an organic reaction to what is garage-rock. If you missed them last night you can catch Desert Owls at Sala Rosa September 3rd.
The night cap of the show was also worth sticking around for.   Allan Lento and Will Austen, who play in numerous local bands in MTL and a also play in a Velvet Underground Tribute band, did an acoustic set that sailed us off into what is just the beginning of the POP Montreal Festival. Complete listings, bands and all that jazz can be found on at the POP Montreal Festival site.
Let the music begin! Here we go…. get ready to UnPop and then POP.