Most people know by now that the US uses drones quite a bit in the Middle East these days. Some are aware that drone killings are frequent and don't always hit non-civilian targets. But very few get an accurate sense of what's happening in almost real time.
Now, that may change because of a new iPhone app called Metadata+. Developer Josh Begley, who also runs the Twitter account @dronestream, culls data from news reports of US drone strikes from the New York Times, BBC and other sources and makes that data available in map format on his app which also sends out a push notification each time a strike happens.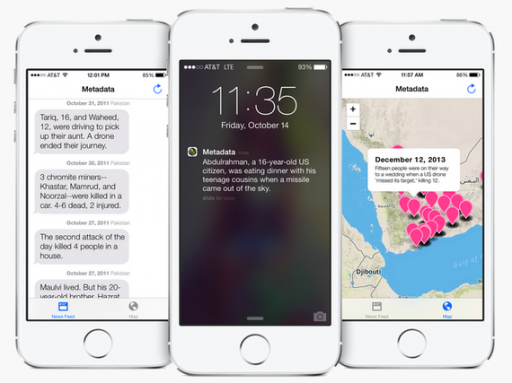 Apple rejected the app, which was originally called Drones+, five times. Now with a name change and a more generalized description ("real time updates on national security issues") it's available for free in the app store.
Here's Begley talking about the app before it was approved on MSNBC. In this interview he asks the question: "Do we want to be as connected to our foreign policy as our iPhones?"
It's an interesting question. Are people and in particular activists speaking out against the US drone program and targeted killings going to download an app that effectively announces each time one of those killings occurs? Can people stomach having their day interrupted regularly with a buzz from their pockets every time the US military kills someone with a drone?
Will you download this app?