This week I bring you another delicious Mexican classic: gorditas! A gordita (literally translated into English as "little fatty") is a type of flatbread made from cornmeal and then stuffed with pretty much anything you like, such as vegetables, meat, or even a sweet filling.
I always choose the vegan options, and was thrilled that a favorite gordita spot here in Mexico, Doña Tota, offers two fillings devoid of animal products: a refried beans option (without the cheese, which is a typical addition) and a potato filling.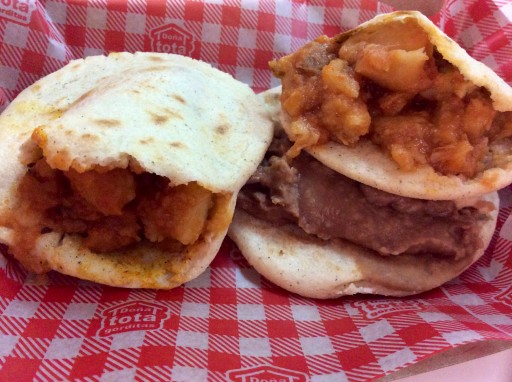 These two fillings at Doña Tota don't have any meat, but how can I be absolutely sure that they don't contain any animal products? I cannot, unless I make them myself at home.
I must admit, I was a bit intimidated to try this recipe on my own. Making gorditas is an art form, but then again, so are many other culinary creations such as pizza and lasagna! The difference is I did not grow up in a Mexican kitchen, so unlike Italian dishes, this wonderful and inspiring cuisine is all new to me. But, alas, I am a very eager student, and a lover of all things Mexican.
I mustered up some confidence, got myself masa harina, corn flour, and set out for a culinary adventure in my kitchen. I had to determine the flour to water ratio, so I experimented based on my experience with making pizza dough, adding water to the flour slowly and feeling my way through. I created a big loaf of soft dough and then pinched tangerine-sized balls of dough, patting then into flat cakes, about ½ inch thick.
I then heated a frying pan on medium to high heat (no oil) and placed the patties in the pan. I flipped them once they had some colour, after about four minutes on each side.
Once they were done, I removed them from the heat and let them cool slightly. Some people deep fry them at this point, but I don't think this is necessary since they are already wonderfully flavorful. Once they cooled, I used a serrated knife to slice them about ¾ through to create a pocket. The serrated knife is super important for this step so that the shell doesn't stick to the knife or crumble.
Now your gordita is ready for you to fill with any filling you like. I made a sweet potato, corn and bean mixture and garnished it with chopped cilantro and onion. If you'd like to try the refried beans filling, like the ones from Doña Tota, I gave you my recipe last week.
Have fun and buen provecho!
Gordita Shell
Makes about 5 shells
Ingredients:
2 cups corn flour
1 2/3 cup water
Pinch of salt
Method:
In a large bowl, add the flour and a pinch of salt. Add the water slowly, about 1/3 cup at a time.
Knead the mixture into a large loaf.
Pinch off tangerine-sized balls and pat into flat patties, about ½ inch thick.
Heat frying pan (dry, no oil) on medium to high heat. Add patties and cook for about 4 minutes on each side, until they start to get a golden color.
Remove from heat and allow to cool slightly.
Slice open (using a serrated knife) and fill with any stuffing and garnish you desire.
Sweet Potato, Bean and Corn Gordita Filling
Ingredients:
½ white onion, chopped
4 cloves of garlic, minced
3 small sweet potatoes, peeled and chopped
1 teaspoon minced fresh rosemary
1 tablespoon grapeseed oil
½ cup frozen corn
1 cup cooked pinto beans
½ teaspoon onion powder
Himalayan salt and black pepper to taste
Method:
Add onion, garlic, sweet potato, rosemary and oil to a frying pan and sauté until soft, about 5 or 6 minutes.
Add corn, pinto beans, onion powder, salt and pepper and continue sautéing for another 1 to 2 minutes. Turn off heat and set aside until ready to fill your gordita shells.
Get my cookbook, Cooking With Amore, for over 100 vegan recipes, all made with amore!
Follow my vegan adventures on Facebook, Twitter (@veganchefamore) and Instagram (cookingwithamore).
See you next week with another irresistible vegan recipe!