"I didn't choose the boot, the boot chose me!" – Vermin Supreme
Vermin Supreme is an incredible character, a friendly fascist, a tyrant you can trust. He is an internet meme, a pop culture reference, an incredible performance artist and political symbol of hope.
He is my candidate! I agree with the platform that everyone must brush their teeth, the zombie apocalypse is near, and a pony would be so fun.
I have seen him in the news for years, always thinking who is this man? Running for office in New Hampshire and President of the good ol' USA. I never in a million years would think I would get to hang out with him.
I knew the Victory Tour was coming to Mohawk Place in Buffalo on its way to Washington DC and figured I would check it out, but then a good friend of mine texted me, saying they needed couches to crash on. As incredible it would be to have THE VERMIN SUPREME on my couch, I hooked them up at the hostel where I work so they would be more comfortable.
I really did not know what to expect from the show. Local activist band The Blood Thirsty Vegans opened the show, then the adorable Rob Potylo sang some politically charged and just plain fun songs (my favorite being Hot Dogs and Apple Sauce) to lead into Vermin Supreme.
He started the show with the Star Spangled Banner done in an experimental noise style with a megaphone. There were a lot of sing-a-longs including a depressing ballad called Psycho Kitty, a song about crabs, and an introduction to Spud Head a baby doll with a matching booted head. He also read some pony erotica from his book I Pony.
I felt like a little girl again clapping along and laughing out loud. The show was a glorious escape from reality, it was art for art's sake, it was FUN during a dark time. He made me laugh on the edge of the apocalypse.
That is who I want for president, not some asshole who doesn't know how to smile and never made art in his poor excuse for a life. Fun and love reigns supreme, not hate and violence.
I wish that all politicians remembered how to be kids, remembered that if you run fast enough you can fly. He ran down the icy sidewalk screaming like a madman, I was inspired. Told me a story of him doing the same thing naked and stone sober at a Rainbow Gathering. Everyone thought he was just a spun out hippie, or a wiley homeless man, definitely some kind of uncharted crazy.
Then he puts on the boot and gets asked to take selfies in the hundreds. He was at ROTFL Con and met THE keyboard cat and Scumbag Steve (among others), Grumpy Cat was still a happy kitten then. Vermin has been a performance artist for years, this character just stuck, he became Vermin Supreme, even legally changing his name.
He says that it's great to be him because he lives life inconspicuously and then puts on the boot for celebrity status. It is amazing that once you do something people notice you. It takes an act of ridiculousness to get people's attention, then you can give them the 1-2 punch of ideology and compassion.
NYC performance artist Matthew Silver is the only other artist that I have met who has this effect on the art world and people at large, and he is going to be Vermin's Vice President. I am excited to see them interact with each other. I remember coming across Matthew while in New York during the Occupy Wall Street movement and The Slut Walk, he stood there in his underwear spouting sonnets of love.
He made me smile. I remember watching him get harassed by the police, and he turned it right on, he has the right to do this! Then I knew he was a performance artist and not another lost soul. I was monumentally impressed. The spontaneity, wackiness, and love with these two combined will be off the charts.
I even enjoyed the merch they sold. His tour manager wore a shirt that said "I Love Butt Drugs" which is apparently a real drugstore somewhere in Indiana. They sold wind up penises, embellished ties, glitter tooth brushes, and other random goodies.
All and all I was completely amused and inspired. It was yet another reason for me to truck on to DC this weekend. I will wear my gold glittered Vermin Supreme the dye tie with pride.
All you have to do to be an artist is to make art! Live it! Breath it! Be insane about your art, put your heart and ideals on display and you will connect with the people. As a performance artist I must allow myself to break free. I must allow my naked self to baffle the buffoons, to sparkle in the face of absurdity and the obscene. Nobody can teach you how to be yourself, you are the only one who can brighten your individual light.
Vermin Supreme became an icon when he put the boot on his head because that's when people listened (and maybe everyone secretly wants a pony). What is my boot?
I am so excited to go to Washington DC this weekend for the Inauguration Protest and The Million Woman March. This is a scary time and we must stand together to face this evil. A tyrant has been appointed by the redneck racists and the Russians, he is putting the 1% in charge and stripping the rights of everyone else in the name of god and profit.
I have been asking myself WHY AM I GOING? Why am I going to Washington DC to protest? Because I simply must! Yes, I wish I would have gone sooner, tried to stop this unstoppable evil, but the only time is right now.
I have never been to my nation's capitol, and this is the time to go, front row seats to the end of the world. I don't want the world to burn like at the end of Fight Club, I just want people to love! I want everyone to be safe and have healthcare, be allowed to love and live in peace, put an end to war and oppression, equality for all humans.
Black Lives Do Matter. Immigrants build this country so we must welcome them with open arms. We need safety for our Trans brothers and sisters, support for the mentally ill, homes for the homeless, rehabilitation for the addicted, happiness for the sad, food for everyone, clean air and water, a better environment, and an education system that will encourage and expand young minds.
A pony would be nice too, it would be more environmentally friendly than a car, give us all great companionship and a sense of responsibility and love for another life. Plus ponies are just so darn cute. I would eat carrots with mine all day long, brush her mane, and listen to punk music with her (cuz that's what she likes). Maybe I will name her Warrior Princess Cherry Rainbow Buttercup Sinclair?
I am going to Washington because while I do recognize that it is important to rise up in your own communities, sometimes you must converge with your comrades and organize to resist! Direct action is the only way to disrupt evil. Reach out a hand and help! Clean something, feed someone, and respect the beautiful diversity of humanity.
Every person in every city needs to stand up and speak out! Even if you voted for Trump you must realize how dumb this is. He is based in pure hate and has no business being in the White House. All of his promises are bullshit.
President Obama received so much criticism, but will go down in history as an eloquent human who made a difference in our world. He is a great father, husband, and humanitarian that helped open the doors for social change.
I am going to Washington to help end racism, hate in all forms, oppression of women, and war. I have been reading about how the Million Women March has not been as inclusive as it should be to women of color, which unfortunately has been a problem with feminism since the first wave.
White female privilege is real. Just because I am a woman does not cancel out the fact that I am white. White women threw black women under the bus when it came to the vote, even making them march at the back of the line!
Similar things are happening with this march. Even the name was appropriated from a march organized by black women in 1997.
We cannot segregate our feminism! That is as demeaning and shitty as T-bag grabbing pussies. ALL PUSSIES ARE EQUAL and deserve respect and a voice! All women need to hold hands and fight back, we are stronger united.
I am getting into a van with a variety of women, some of which I do not know very well, but have been activists their whole lives. Others, like me, are going to their first large scale protest. We all care, we all want change, we are all scared, we are all willing to speak up and be strong for each other.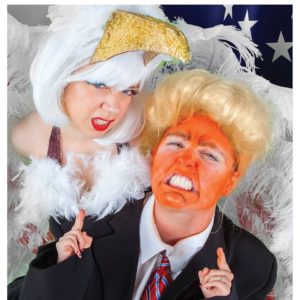 Of course it is scary. I do not trust the police, I do not trust the military, or the terror of Trumpocalypse, and what he and his scumfuck cronies are going to do with our precious world.
I know that I will have my water bottle half filled with water and the other half filled with milk of magnesia, just in case they pepper spray me. I will have impermeable layers and protective face masks in case of tear gas.
I am not going to Washington to set fires or cause physical destruction. I am going to burn down the evil with my words and artistic presence. I am going to create a better world for the future for the children who already exist (and those yet to come).
I am speaking up while I still can, before all of my rights are stripped, before I am too old or sick to stand tall. I am going now because I must be there. You cannot cower in the face of adversity, you must look it in the eye and smile. You must hand it a flower and give it a hug, you must show evil that there is another way.
Vermin Supreme inspires me because he is out there doing it! He is living proof that the revolution is real and we are allowed to have fun even though the ship is currently sinking.
Laughter saves lives, activism opens eyes, and everyone has an artistic voice. Find your boot, your power source, put it on, and change the fucking world!