The VICE Annual Photo Show kicked off yesterday evening at the Phi Centre, located in the Old Port of Montreal. "The New Photojournalism" features four talented photojournalists, whose photographs document various aspects of nature, daily life, and struggle around different parts of the world. The collection was co-curated by Larry Towell, a renowned Canadian photographer who has had his photos published in multiple popular magazines, such as the Rolling Stone, LIFE, and the New York Times Magazine.
According the VICE, "VICE and Towell share a passion for bringing an immersive, global perspective to the world." The photojournalists that were selected for the show each give a unique perspective on a part of the world through their photographs, evoking emotion, wonder, and curiosity for the subjects and places that star in their work.
.The four collections that are featured at the VICE Annual Photo Show 2015 are Aaron Vincent Elkam's Sleeping with the Devil, a photo series documenting the transitory state of Fort McKay in Northern Alberta; Mauricio Palos' La Ley Del Monte, a collection that offers a glimpse into the tumulus state of the Mexican Drug Cartel; Dominic Nahr's Seeking Refuge in Iraq, a documentation of the displaced citizens in Iraq in the midst of terrorism and political strife; and Brett Gundlock's Flowers for Zapata, an emotional collection showcasing the fight against organized crime in a small Mexican town named Cherán.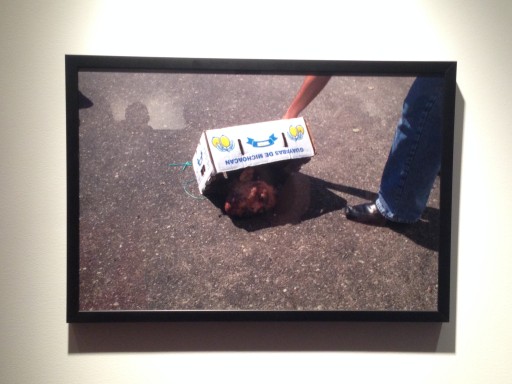 Photo #21 from the series La Ley Del Monte, by Mauricio Palos. Photo by Sisi Ye.
The opening night of the photo show was largely successful, with the venue reaching full capacity within a matter of minutes after it opened. There was a line wrapped around the corner of the building, filled with excited guests who wanted to get a peek at what the show had to offer. However, if you didn't get a chance to check out the exhibit last night, don't fret – the photo show goes on until July 31st, with free admission for all guests. The only thing you're missing out on now are the free drinks that were served on the opening night!
* Featured image: Flowers for Zapata, by Brett Gundlock. photo by Sisi Ye
The exhibit will be presented at the Phi Centre from July 23 to 31st, 2015. Admission is free. Visit the VICE website and the Facebook event for more information.