It's enough to make any true bleu Quebec nationalist quake in their boots. It's also enough to make Quebec Anglos who already feels persecuted raise up their fists.
On one hand, we have the threat of hordes of Ontario and BC students trying to steal Quebec's election. On the other we have an all-powerful PQ practicing Anglo voter suppression and a sympathetic electoral body playing along.
It's enough to make moderates take sides and pick up (verbal) arms. It's enough to make people who had no intention of voting when the election was called try and do just that.
It's also enough to distract from what the real game here is. This has nothing to do with the linguistic or national divide, it's not even about students, though they are the ones who will bear the brunt of the bullshit.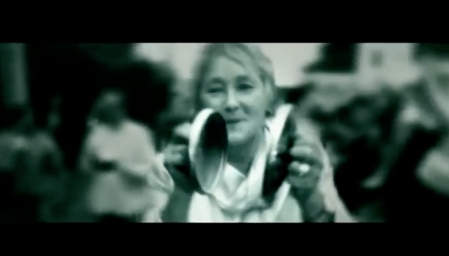 This all started when a now former electoral officer in St-Marie St-Jacques raised a now discredited red flag about an abnormal amount of out-of-province students trying to register to vote. What followed was a back and forth in the media reminiscent of those old battles between sovereignists represented by the PQ and federalists represented by the Liberals.
The only problem is that the Liberals don't really have a chance in SMSJ, they haven't for decades. Even if a bunch of students originally from elsewhere in Canada did register to vote, it's unlikely they would vote en masse for a party so many of them were protesting just a couple of years ago.
Quebec Solidaire, on the other hand, is poised to take SMSJ and other left-leaning ridings on the island of Montreal. Thanks to the xenophobic nature of the charter and Marois' massive miscalculation in making notorious union-buster Pierre Karl Peladeau a candidate, any progressive cred the PQ may have had left seems to be evaporating and they're getting nervous.
They hope that cries of non-francophone (read: anglo and the "other") voter fraud help mobilize their nationalist base. Can people afford to take the chance and vote QS when there's a threat from Ontario?
It's also a possible out for Marois if she loses the election. The PQ is notorious for discarding leaders that don't perform well and maybe she thinks that being able to say it was because of "Ontario et le vote étudiant" will allow her to keep her job at the head of the party.
Regardless of the narrow, selfish reasons behind the move, it is having real repercussions. Some are direct and others are much more subtle and insidious.
To vote in Quebec elections, you need to be over 18 years of age, a Canadian citizen and domiciled in Quebec for at least six months. The first two points are objective, the last one is left up to the electoral officer's discretion.
Basically, a voter needs to prove their intent to stay in Quebec. The electoral officer is supposed to look at where they pay their taxes, which provincial government they have a health card with and other factors and decide if they're just here for their studies or the long haul.
The government, hoping to keep students paying out-of-province tuition, already makes it hard for them to be officially domiciled here, but now those who did manage to jump through all the appropriate hoops are finding it difficult or impossible to vote here. Unfortunately, it looks like discretion has given way to rejection.
The Directeur général des élections du Québec has been rejecting would-be voters who have all the documents to indicate that they plan to stay and even declared  a candidate ineligible to vote. Whether this is a normal, generally unreported practice in Quebec elections, as some have suggested, or DGEQ officials airing en masse on the side of not wanting the PQ to be able to say the elections were stolen, the damage has been done.
Students are historically a tough group to get to the polls under normal circumstances. Now, with stories out there about how difficult and ultimately fruitless trying to register to vote may be, I wouldn't be surprised if some who may have tried to vote will just decide to stay home and not deal with the hassle.
And that, in a nutshell, is voter suppression with a Quebecois twist.
Harper would be proud, hell, the GOP would be proud. Marois has taken a strategy directly from the Republican playbook and it seems to be working.
If we don't want a distinct Quebec culture with American-style electoral politics, there are still a few days to register to vote. QPIRG Concordia and QPIRG McGill are helping students who would like to vote but fear they may be denied or have already tried and would like to try again.
No matter who you want to vote for, or even if you plan to scratch your ballot or vote Parti Nul, if you plan to be in Quebec for most or all of the next government's mandate, you have a right to have your say.