I
decided to walk through Westmount in search of a place to watch the game. I strolled through Westmount Park as a light snow dusted the trees and park benches. I found a freshly cleaned outdoor rink, a beautiful ice surface. It looked like a frozen lake, something that can be found in a Winter wonderland.
I wonder why it's hard to watch a hockey game in this neck of the woods. Westmount does not have a bar scene or anywhere remotely great for hockey watching. Luckily I decided to go towards the border  to NDG. Right before the border, before  it becomes dive like and seedy. I entered Next Door pub and grill (5175A Sherbrooke West), a neighborhood bar where I seemed to be the only unfamiliar face in the bar.
Next Door, like the game after the 1st period, didn't look promising as it was myself and some guy eating a burger watching Washington take a 2-0 lead. My thoughts from the Philly game were becoming a reality. The Canadiens are not at an elite enought level to beat the Capitals. The Capitals are strong offensively and defensively and it's looking like another blowout… or so we thought.
Next Door is quite the tiny bar but also quite cosy, wood panels and familiar faces. A new addition to the bar was an old school Nintendo game and a copy of the 1988 classic, Ice Hockey (it's so old Russia was still the Soviet Union). I was more entertained by the two guys playing this ancient hockey game than by the actual game itself. From a glance I did managed to watch Gionta's top shelf goal and went back to the TV.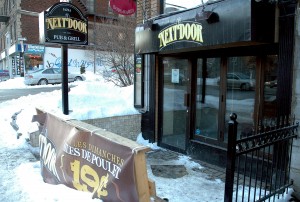 I also befriended a couple who saw me by myself and exchanged dialogue in the language of hockey, I gave them the idea of using Coach Bruce Boudreau's constant f-bombs from HBO 24/7 Penguins Capitals as a drinking game (a note to lightweights: he swears a lot so be careful). It was weird when he was being interviewed, waiting for him to cuss like a sailor.
Minutes later we all cheered as Gionta scored a deja-vu goal (almost from the exact same angle). My heart was racing as the game was now tied and Montreal had a chance to take the game to a new level. My stomach was also getting riled up so it's time to see what Next Door has to offer. Mainly a small selection of snack like pub delicacies, Next Door is known for their burgers and  recommend trying  their Jameson Burger (the sauce they put on their burgers has a touch of Jameson Whiskey). It sure hit the spot as the 3rd ended and overtime loomed.
PK Subban would enjoy a burger like this but he was busy being a pest to Alexander Ovechkin. Ovechkin was already frustrated in this game: no goals or shots on net. Deja-vu like last spring's playoff run. PK adds another to the enemy list. By the way, he made Ovechkin bleed too. Carey Price didn't do him any justice as he stopped him cold in the shootout. Price was on fire all night, not bad for a guy who's goalie equipment was ice cold that morning as it was left outside the night before.
Next Door during shootout time started to get a good crowd, my newly aquired bar mates and I hoped the shootout went the Habs way. Captain Gionta scores another! We were trying to figure out if shoot out goals count for a "hat trick". F**k that, Canadiens win!
Strange thing about the Habs is they sometimes look like a team missing the whole package but can beat the elite. Walking into the bar that looked lifeless ended up pretty lively. I find Next Door quaint and friendly. A good night overall, this is what happens when you walk into a Winter Wonderland.