It wasn't long after news of Supreme Court Justice Antonin Scalia's passing hit social media on Saturday that we got an idea of what the Republicans were planning, courtesy of Conn Carroll, Communications Director for Senator Mike Lee of Utah:
What is less than zero? The chances of Obama successfully appointing a Supreme Court Justice to replace Scalia?

— Conn Carroll (@conncarroll) February 13, 2016
This sentiment was echoed in much more nuanced terms by GOP Presidential hopeful Ted Cruz:
Justice Scalia was an American hero. We owe it to him, & the Nation, for the Senate to ensure that the next President names his replacement.

— Ted Cruz (@tedcruz) February 13, 2016
It is clear that the Republicans, who now control the US Senate, plan to block any Supreme Court nominations current President Barack Obama makes to replace Scalia on the bench. Their motivations are clear and it is possible for them to achieve this goal, with a little over a year to go before the next President is sworn in.
But if they do succeed in carrying out this plan, they may have wished they hadn't. Nobody knows who the next President will be or which party will have a majority on the Senate.
Republican Dream Scenario is Just a Dream
The GOP is clearly hoping one of their own moves into the White House and nominates a right-leaning candidate which the Senate, still controlled by Republicans, quickly confirms. Now, I know that you have to approach an election with the attitude that you are going to win, but even GOP strategists must realize that their dream scenario is a bit of a longshot.
It's extremely likely, thanks largely to gerrymandering, that the Republicans will still form the majority in the US House of Representatives, a body that has nothing to do with Supreme Court nominations. They have a likely, though not definite, chance of retaining control of the Senate, too, so there is a decent chance they will retain control of the confirmation process if they succeed in delaying.
When it comes to winning the Presidency, the odds are not in their favour. When a two-term President is still popular at the end of his second mandate, there's a good chance his party will keep the Oval Office, for at least another term.
George W. Bush was extremely unpopular across the board when he left office, to the point that John McCain didn't really want him helping out during the campaign. Obama is still loved or at least respected by most of those who voted for him and the people who hate him now hated him in 2008, too.
Also, the Democrats have narrowed their options to two and the debate is pretty much centered on how much to the left of Obama the party should go. The Republican field, on the other hand, is still wide open.
Factor this all in and the possibility of a Republican being able to nominate the next Supreme Court Justice, while not an impossible scenario, is not the likely scenario. So the question becomes: Why would the GOP gamble everything on a bet they very well may lose?
Irrational Fear of Obama or Playing to the Bigoted Base?
Despite all the rhetoric the right throws at him, President Obama is a solid practitioner of incrementalism. Anyone he nominates to the Supreme Court, though perhaps harboring a liberal bias on some issues, would be, by and large, a moderate. Not just that, but someone specifically selected to pass through confirmation by a majority Republican Senate.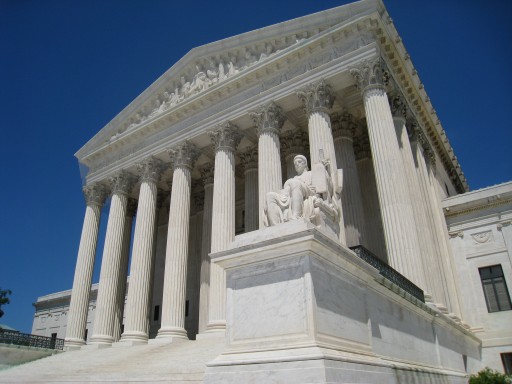 FTB's legal columnist Samantha Gold listed some of Obama's potential choices. These are all qualified jurists who really don't scream anything close to radical activist. One of them, David Jeremiah Barron, even once wrote a legal memo justifying drone strikes against US citizens. While this horrifies me, I don't see why law and order "kill the terrorists at all costs" Republicans would have a problem.
What may make the GOP nervous about confirming some of these names? Could it be the names themselves? Sri Srinavasan and Jacqueline Hong-Ngoc Nguyen both have the qualifications to justify being on the SCOTUS, but they also both have names that don't sound white, because they're not. They also both weren't born in the US.
None of this should matter, but it may matter to the more racist elements of the Republican base. We're talking about people who care less about the fact that Srinavasan graduated from Stanford Law than the fact that he swore his oath to the circuit court on the Baghavad Gita instead of a Bible.
Now, of course the Republican Party can't come out and say that racism played a role in their decision to force a delay in the nomination. What they can do, once it becomes widely known that the Thurmond Rule (what they are using currently to justify pushing the nomination to the next President) is not an actual rule and also doesn't even apply until the last six months of a President's term, is play the fear and hatred of Obama card.
It's something they have mastered. Irrational paranoia over a moderate incrementalist. In this case, though, it may give them a result that will make approving an Obama nominee seem like the safe bet.
What Could Happen
Let's look at a few hypothetical situations that could arise after the Senate Republicans delay filling Scalia's seat until the next US President is sworn in:
Hillary Clinton or Bernie Sanders is the next President and the Republicans still control the Senate: The list of potential nominees would be similar, though maybe not that drone supporter guy in the case of a Sanders presidency. All the Republicans accomplished was leaving the court deadlocked for a year with no purpose behind it.
Clinton becomes President and the Democrats take control of the Senate: She could nominate some of these people but would be free to go with a judge decidedly more liberal.
Sanders becomes President and the Democrats take control of the Senate: The Republicans freak out, call a lame duck session and try with all their waning power to confirm Obama's nominee because they know Bernie won't pick a moderate or even close!
Never mind the fact that the current Republican course of action has them completely and deliberately ignoring their constitutional responsibility to promote an illogical fear of Obama and appease the more racist elements of their base, it also has them throwing everything behind a bet there is a good chance they won't win.