If anyone thought the battle over shale gas in Quebec was finished, a wave of protest that has swept through the province washed those thoughts away in Montreal on Saturday.   Organizers and supporters of the "Moratorium for a Generation" marched on the city, bringing to a crescendo a month-long trek from Rimouski in eastern Quebec and along the St-Lawrence River to downtown Montreal outside of Premier Jean Charest's office.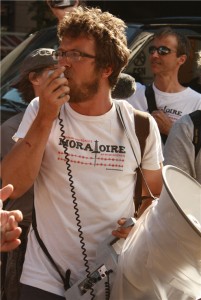 "We're asking for a 20-year moratorium on the exploration and extraction of shale gas in Quebec," said organizer Jean-Sébastien Leduc.   Twenty years is the length of a shale gas exploration land claim and of a generation, said Leduc.   "We don't want to leave a legacy of polluted water, contaminated air and noise to the next generation."
Shale gas extraction involves drilling a well and pumping water, sand and chemicals into it at high pressure.   The pressurized mix cracks layers of shale releasing the natural gas trapped inside, approximately two kilometers underground, a process called hydraulic fracturing or fracking.
Concerns about the industry include the potential for ground water and drinking water contamination with chemicals and natural gas, air pollution, greenhouse gas emissions, noise and industrialization of rural landscapes.
Michel Robert, a farmer from Mont St-Hilaire, marched with the group that started in Longueuil on the south shore.   The group marched across the Jacques Cartier Bridge, chanting, carrying flags and signs and drawing a chorus of honking horns on the busy crossing.
For Robert, water is the biggest issue. "On my farm I get my water from an artesian well and the chemicals that are used could end up in the ground water in a year, 10 years or  100 years," said Robert, "but in 200 years there will still be farms in St-Hilaire and we don't need these chemicals in our water."
Fellow Mont St-Hilaire resident and retiree Marie Bouchard took part in the march and said public consultation has been lacking. "We
never heard anything about it and all of a sudden we saw trucks beginning to explore 200 metres from our homes," she said.   Mont St-Hilaire is known for its largely undisturbed natural richness and is a UNESCO biosphere reserve.
Several groups took part in the rally including the outspoken Quebec Association Against Air Pollution (AQLPA), one of the industry's loudest critics, as well as Equiterre and Greenpeace. Parti Québecois leader Pauline Marois and Québec Solidaire MNA Amir Khadir also attended.
In addition to attracting broad citizen support, new endorsement was pledged by a coalition of Quebec scientists calling for greater independence and citizen participation in the government's shale gas environmental evaluation committee.
Gathered outside Premier Jean Charest's Montreal office, thousands of people cheered calls for more renewable energy development, including wind, solar and biogas.   And though people like Robert are still not sure about putting wind turbines on their property, energy conservation was a common theme.   "I think all citizens, including me, have to learn to better conserve energy," said Robert.
Organizers said that Quebec's energy needs are already met by the current hydroelectric supply and excess energy production is planned to be sold to the United States.   In Vermont, for example, the state has voted to close its nuclear plant in 2012 and buys a large proportion of its power from Hydro Quebec.
Public resistance to shale gas has already put the brakes on development in Germany and France where moratoriums are sought or nearly in place, though other European countries are pursuing shale gas as a means of gaining greater energy independence.
Photos by Tomas Urbina