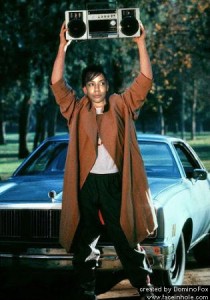 The radio only speaks directly to two kinds of people- the insane and the insanely heartbroken. When one is the latter, it seems that every song has been hand picked by the DJ to ensure that your heart remains irreparably broken. With the level of insanity it takes to believe the DJ is conspiring against you, it is not hard to believe that if you drove to the radio station he or she would be sitting there laughing and licking whipped cream off your ex. Then the DJ goes into a diabetic coma and your heart-breaker has to take care of them in perpetuity. Or, maybe that's just me. (Obviously I don't wish this on anyone, but sadly it's the best I can hope for as I don't like whipped cream, which makes it difficult to compete in a lick-off.)
As an audiophile, when I'm heartbroken, I usually have a listening party with songwriters who have clearly been through this before. As the host of this party, I reserve the right to shove a pickle* in the eye of the happily married or coupled artists who have made a career of admirably articulating my broken heart (I'm talkin' 'bout you, Aimee Mann!). Ray Lamontagne, thanks for the help setting the mood, but the rule at this party is no one can do to others what I can't do to myself. Go find another place to make out with your sweetie! It's a pity party, people! If you even consider bringing a date, I will shove a pickle in your eye too!
* A special pickle-rocket launcher is being designed for Dave Grohl who is so giddy with familial bliss he performs "Monkey Wrench" with a smile and dimples showing!
In our darkest hours, we need our comrades in pain and anguish to be able to empathize. Nobody (without a mullet) has ever washed down the entire pizza with a bottle of vodka, and then drunk dialed their friends because someone broke their "achy-breaky heart". Stephin Merritt, Aidan Moffat and Bettye Lavette have, however, proven invincible allies. (Perhaps their empathetic strength is reinforced by the double letters in their names; in which case Bettye gets double double-letter points and if you've heard her sing you'd know she's earned it. Not convinced of my double-letter theory? I submit Fleetwood Mac's entire 35-year career.).
However, anyone who has ever commiserated with Hootie & his Blowfish, admittedly or not, has committed both thoughtcrime and musical sacrilege, and should be shunned accordingly. Likewise, show me a person who found kindred spirit in James Blunt's "Goodbye My Lover" and I'll show you a person who just broke up with a castrated Muppet.
We all have our musical blankets we like to wrap ourselves in, light or heavy, because there's no comfort like the comfort of someone who gets you. So hang out with your best music buddies; that's what they are there for (Except for Hootie, who is there to make sure you never get laid again).
Better yet, do what I do: make a playlist that shuffles randomly between Sufjan Stevens, Arab Strap, Stars and GWAR. It's not like suddenly the deeper meaning behind the lyrics (as I understand them), "shububba-kuhttah-fraaawwwaaat kvaaaaaaaaaah-ha-ha-ha" will be revealed as "I'd really like it if we could still be friends" when played backwards.
Although, with my luck, it probably does mean something like "I am licking whipped cream off your ex!"
Tania Fox is neither cynical about love, nor currently heartbroken. Although she has every right to be cynical since she did once have her heart totally decimated by a castrated Muppet. Elmo is a douche!