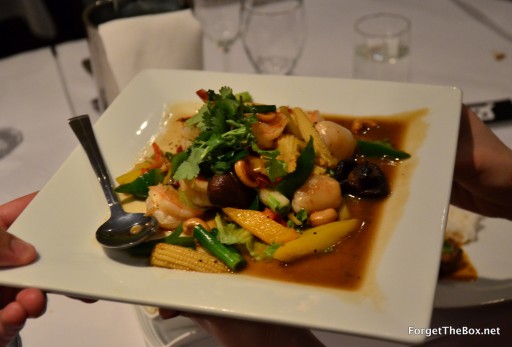 Going out to dinner can be awesome, it can be unremarkable, or in the worst of cases, it can ruin your evening. Many elements determine these things and each of these factors is of course contingent on a million others. So how do you know when a restaurant is good or bad, vs. when a particular experience at said restaurant is good or bad?
The latest Wine and Dine adventure took us to Outremont, to Mai Thai on Bernard (cross street Parc). We had the largest W&D turn out to date with twelve guests. Our large crew seemed to take the restaurant by surprise, despite the fact that we gave them a week's notice. There was one server and one cook to take care of about twenty patrons that night.
The shortage of staff resulted in slow service. Although we were partly responsible for taking our time placing orders, the real tragedy was the restaurant couldn't handle that kind of multitasking and so the timing was very off- the cook looked absolutely exhausted when she left at the end of the night. About half of the appetizers were brought out in one round, a couple more five minutes later, and the last were brought much later. There was the same timing issues with the main dishes; the last plate of food was delayed leaving my friend staring at the ceiling for what seemed like an eternity. It begs the question: do you wait for everyone to be served even if that means people's food gets cold? Or do you go ahead and eat while a hungry companion watches?
The main dishes would have been enjoyable had we had good service, I might even say it was great. Unfortunately we were too distracted by hunger to really savour it. Considering the alternatives, I won't be going back when my next craving for Thai strikes. A few comments on what I do recall; the duck spring roll was rather bland I'm not even sure it had any mint. The rest of the dishes I tried though did hold their own. The fried monkfish was good, as was the beef curry. The veggie curry, the shrimp with lychee and the Pad Thai were ok I kept thinking back to a lunch I had a week earlier at Bangkok and was left unimpressed with this dinner, which does not bode well for Mai Thai.
They were out of the house wine, so we had a bottle of an Italian Pinot Grigio and a Californian fumé blanc (Fetzer 2009). Both were served too cold- the fumé blanc in particular, and neither was remarkable.
Dinner took so long that some of our companions left before we could order dessert, only a handful of us stuck it out till the end. I heart fried desserts, bananas and ice-cream are my weakness, and I was excited to try the fried mars. I'm very peculiar about chocolate, but the promise of a deep fried candy bar seemed so ostentatiously indulgent that I couldn't pass it up. Unfortunately, they were out of mars bars and wouldn't accept our offer to go buy one at the dep. So we stuck with fried bananas and what do you know, it ended up being my favorite dish of the night.
When we got our bill we realized that dessert was once again on the house we seem to be building a W&D tradition of free sweets. I just hope this tradition stops being as an apology for slow service and continues simply as a recognition of our awesomeness.