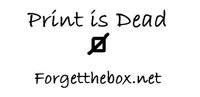 We're back in time for the party!
Whew, what a relief! After some real tense hours running for the title of the Area 51 of indie websites, Forget The Box is back, baby, back! A special thanks to Terry Cutler for all his help and to everyone who bore with us during these brief dark ages.
You know what would be great right about now? A party to celebrate both us being back online and all the people involved with FTB. Hey, let's have one tonight at 3 Minots, 3812 St-Laurent. Let's invite Pierre Jalbert, Illicite Rock and Les skidoos jaunes to play and make it a real Soiree Gaspésienne (most of these bands comprised of members from Gaspésie).
Hey, let's make it a fundraiser, wait, no, a FUN-raiser and ask for $5 to help benefit our growing media collective. We're a collection of free thinkers who just want our voices to be heard as much as those from more well-funded organizations on our mediascape.
Every bit helps and you can help by celebrating with us. The show starts at 9pm at 3 Minots see you there!
FTB Fun-raiser
9 pm – 3am
3 Minots
3812 St-Laurent