We Are The City, Rah Rah and Aiden Knight
Casa Del Poplo
March 8, 2011
Doors open at 8:30pm and show starts @ 9:30pm
Tickets available @ indiemontreal.ca or $8 @ the door (if not sold out)
Tomorrow at Casa Del Popolo Kelowna space rockers We Are The City, Rah Rah and Aidan Knight will bring together the forces of magic, enchantment and rock for Montreal music goers. Tuesday night will be another great night for live indie music at Casa, which has always been a focal point for great bands and great music. Come see the latest on the Canadian music scene before you head to Candadian Music Week on Thursday.
We Are The City, a trio based out of Kelowna, BC, is composed of Cayne McKenzie (vocals/keyboard), Blake Enemark (guitar), and Andrew Huculiak (drums). Known for their atmospheric progressive-pop sound, We Are The City is sure to please your ears. Their latest album High School lays bare to shameful memories from secondary school; I think we can all relate to that kind of shame.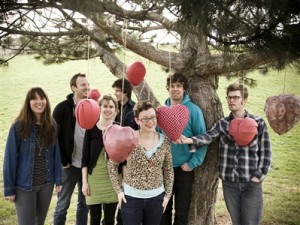 In addition Rah Rah will be there. Rah Rah just released their first album Breaking Hearts, which was recorded in Montreal by Kees Dekker (Plants and Animals) and has received great reviews and praise from critics. One impressive thing about Rah Rah's music that you can really appreciate is their interchangeability as a group, making them sound and feel more like an artistic community and less like a "typical" lethargic band. Rah Rah does this by sharing a collective mentality, taking turns singing lead vocals and songwriting. They're also known for constantly switching instruments amongst themselves on record and on stage. With their diversity of instrumentation guitars Rah Rah's electric sound does not disappoint!
Aidan Knight rounds up the evening with his beautiful voice and acoustic guitar playing. Aidan is well known in the Canadian music community and has performed with many talented artists. Now, he takes the spotlight with his own solo career. His amazing innate ability to compose unique songs with genuine emotion will have you downloading his music right after the show.
Photos: 1. www.wearethecity.ca and 2. radio3.ca.