If lust is seen as excessive thoughts or desires of a sexual nature, then pretty much everyone I saw attending Montreal's 7th annual Fetish Weekend is guilty of sinning in style!
My partner in crime, photographer Chris Zacchia and I sported matching "underwear as outerwear" themed-ensembles with cowboy boots to the Kabaret Kink party last Friday at the historical Olympia theatre. There we encountered a crowd of PVC-clad revelers engaging in the cardinal sin of pride, parading their kinks and perversions around for everyone to see.
The Montreal Fetish Weekend is put together in large part by organizer and world class guy, Eric Paradis. It is largely due to his diligent efforts that the Montreal (and Global) Fetish community has events like this! He has helped this event grow into its now 7th year, and it continues to grow year after year. (Eric pictured below)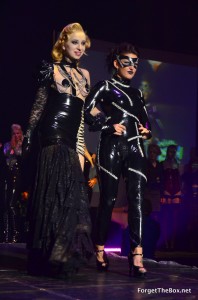 While we may have missed part of the night's organized fashion show due to the requisite consumption of liquid courage necessary to leave the house in nothing but a shiny black corset and fishnets, the real fashion show was everywhere: sky high faux lashes with patent platform boots to match, Goth chicks leading boys wearing too much eyeliner around on leashes, and shirtless men whose bondage rope-wear really accentuated their man boobs.
Luckily for us liquor gluttons, the bartenders at the Olympia were serving up refreshing beverages, and lucky for little old me, the boys were buying. As one partygoer commented, "You ladies deserve it for looking so good! You buy the fishnets, you buy the outfits… the least I can do is buy you a drink".
Even with the sexually charged atmosphere, the party was surprisingly tame. That is until I was dragged upstairs into the empty balcony seats for a good ol' fashioned spanking. But then again, it wouldn't be a fetish night without a little bit of wrath.
Rumour has it the next two nights (and subsequent after parties) were more on the scintillating side, complete with a play area, lurid demonstrations and a latex-shining station. But for the really good stuff in this city, unfortunately you'd need to build a time machine and set it for about a hundred years ago to the golden age of the Red Light District. Luckily…
Infringement festival co-founder Donovan King and burlesque dancer Velma Candyass gave us the next best thing to a time machine with their Red Light District walking tour, revealing all the licentious secrets behind the concrete facades and boarded-up buildings. They certainly made me envious of a time when, as Mordecai Richler put it, the street "was lit up like a neon cake" and you could head down to the Gaiety Theatre and catch a show by Lili St. Cyr.
I'll never see the corner of Ontario and Sanguinet the same way again after learning that it once housed a brothel so well-known that merely uttering its address would prompt titters from the boys in the schoolyard. 312 Ontario used to feature round-the-clock service by a team of 80 sex workers, all just down the street from the Number 4 police station.
Of course, all that remains now of the infamous strip of burlesque houses and bawdy bordellos on the Lower Main is Café Cleopatre. With its vintage marquee boasting "Strip-Teaseuses" and "Spectacles Continuel", the strip club and cabaret venue became a lone David facing a Goliath development plan by the city, that would have essentially extinguished the evidence of the seamier side of the Lower Main.
Many, including King and Candyass fought hard to keep it from falling victim to the greedy sprawl of gentrification, as the area became rebranded as the decidedly more family-friendly Quartier des Spectacles. A recent victory by club owner Johnny Zoumboulakis has permanently halted the construction of a 12-storey Hydro Quebec office tower.
The notion of cleaning up these streets is not a recent invention in Montreal. Three streets east of Saint Laurent is de Bullion, once known as Cadieux. Rue Cadieux's claim to fame was its venerable status amongst sailors for having the best brothels in the city. To extinguish this unwanted reputation, the city renamed it in 1927 after a religious Roman Catholic woman.
King and Candyass plan to resume their tour next summer, a truly fascinating 90-minute look at the vibrant, racy history that earned Montreal the reputation of Sin City.
So let's see, that puts our Sin Count up to six- lusty glances and intentions, freak pride, gluttonous appetites for hedonism, wrath against my ass, envy of the glory days of the Red Light District and the greedy desires of developers. The only one missing is sloth, but he was so lazy he missed the party… better luck next year, sloth!
Photos by Chris Zacchia.
For more pics of this salacious weekend check out the photo galleries on our FB page.