For some people, art is a diversion. For Mundafar Lussier and Kayla Williamson of We The Sheep People, a 15-member collective of socially conscious musicians , visual artists and other community minded individuals, it's anything but.
"Art is something that in a way touches us all emotionally," observes WTSP founder Lussier. "Our first moral compass is based on our emotions and how we feel about things."
Now, that moral compass will guide the pair across Canada, as they ride from Montreal to the Gulf Islands, BC on a special tandem bike made for them by Les Forges de Montreal and Cyclopath, meeting with farmers, artists, community outreach organizations and others along the way.
"We want to go meet those people, shake their hands, get to know what their situation is and let them know what we're doing and how we can help them," says WTSP artistic director Williamson of the edu-tainment organization's plan to help connect all these groups together and give them resources.
"WTSP is an organization that gets other organizations working together," Lussier says, adding that the current reality of nonprofits in Canada is more like a competition. "People aren't really working together even if they all have the same values, even if they're all striving for the same concerns, they really have a hard time opening their doors to each other."
In order to open some of those doors, WTSP has an approach that is largely driven by promoting the work of others. Artists struggling to sell their work can donate a piece which WTSP will sell. The artist gets 75% of what the work brings in and 25% goes to the organization so they can feed people. Farmers just have to show WTSP how they're giving food to a local organization and WTSP will promote them for free.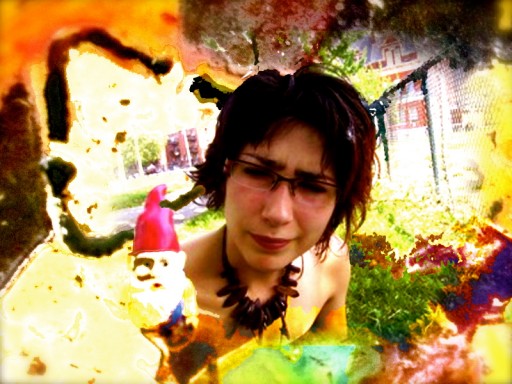 To kick off the trip and raise money for it and to incorporate as a non-profit organization as well as give people a chance to hear their new album Under My Hoof, WTSP are holding a fundraiser today and tonight.
There will be live music, a silent auction of artists' work and samples of new organic dishes you may not have tried before. $20 gets you in the door as well as an electronic copy of the album. In fact, WTSP will be releasing all of their music digitally, or, as Lussier puts it "no more plastic, no more extra trees being cut down so we can listen to music."
The WTSP Bike-A-Thon Fundraiser/Album Launch takes place at Restaurant El Zaziummm, 4581 Avenue Du Parc on Sunday, April 3rd and runs from 4pm till midnight. You can hear some WTSP music and follow the bike tour at wethesheeppeople.com
Images courtesy of We The Sheep People