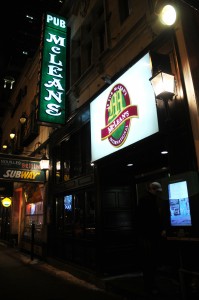 It was the coldest Saturday night this season but there was no stopping me from checking out this game. Those of you thinking, it's the Ducks for f**ks sake. It was a special and rare meeting of these two squads as well as the return of Saku Koivu: our former captain and a shining example of what it's like to play with heart.
Koivu was the 2nd longest serving captain and the epitome of courage. His legacy may be questioned because he led a team that never produced a Stanley Cup but we will never forget his brave fight against cancer and return to the sport. He showed nothing but heart, bravery and leadership.
For this match up I ended up in the heart of downtown, on Peel St. I headed to McLean's Pub (1210 Peel) as anywhere near the Bell Centre would equal loyal fans. I got there early and the place was packed full of Bleu Blanc et Rouge. I remembered this was primo pre-drinks location before the Bell Centre crowd headed to honor their old captain VS his old team.
McLean's is tavern-like in atmosphere yet contains as many TV's as a sports bar. No problems watching the game no matter where I sat. They're known for serving Alexander Keith's beer and featuring a large dinning menu but on hockey nights they have a special hockey menu where the food is named after players. Most recommended was the Rocket Richard (a bacon cheeseburger with fries). I ended up with the Scott Gomez (nachos with chili, spiciest nachos I've had this season). I found it ironic that the Andrei Markov 's plate was a 'healthy chicken' plate.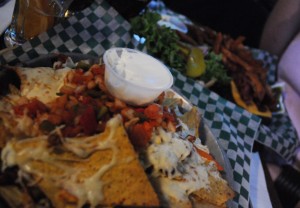 My recommendation would be renaming the PK Subban plate, (currently a rib steak) to some sort of burger dish. The Gazette recently revealed his love of burgers. I think the honor of ribs should be bestowed onto Max Pacioretty. For someone who hurt his ribs, he's playing incredible.
The Habs just concluded a series of back to back games, a comeback in Calgary followed by the bruising in Buffalo (we lost two guys in 30 seconds, Cammalleri is still out). Then the outrageousness in Ottawa (7-1 in our favour), concluding with our OT loss to Anaheim.
So, how did Saku Koivu's homecoming go? The fans at the Bell Centre and the organization gave him a standing ovation and cheers of thanks when the footage of his cancer comeback was on the scoreboard. The crowd at McLean's did the same thing.
Even though the night was about Saku's return, he wasn't the only Finn on the ice that night. Teemu Selanne has two assists and at 39 years old, is playing some of his best hockey. Also returning was Max Lapierre who was traded towards the end of the Road trip from Hell last month. He may be getting more ice time but now we're cheering for another Max: Pacioretty tied the game. Someone order a plate of ribs!
So how did Koivu's homecoming go? He spent a considerable amount of time in the penalty box on this evening but his legacy is still present amongst the young players. Players like Subban play with similar heart, Darche with similar determination (who cut the lead with his 8th goal). The last minute of the 3rd period was vintage Koivu as he was the reason the Habs came back to tie it with seconds left.
He took a tripping penalty and the Habs had the extra guy on the ice. It was hussle and heart, the Habs didn't want to quit. Then Pacioretty scored with seconds to go.
Take note, Pacioretty is playing in pain, he can barely breathe yet has been solid these last few games. McLean's pub roars. Overtime then a shootout. Unfortunately Bobby Ryan scored the winner but the Habs still get a point. Take it or leave it.
Another ovation for Saku, named the game's 2nd star. Another giant thank you from the fans. The game and my night at McLean's was a great time. Even though the Habs lost in the shootout and it was freezing outside, everything else was nothing but heart.
Shoutouts of the week: to the guy carrying 2 cases of beer and a hockey stick. The epitome of a true Montrealer. Also, shout out to James McKinney, his site patinermontreal.ca provides data on the conditions and locations of outdoor rinks in Montreal. Very useful the next time you wanna strap on the blades to play a game of pickup hockey.