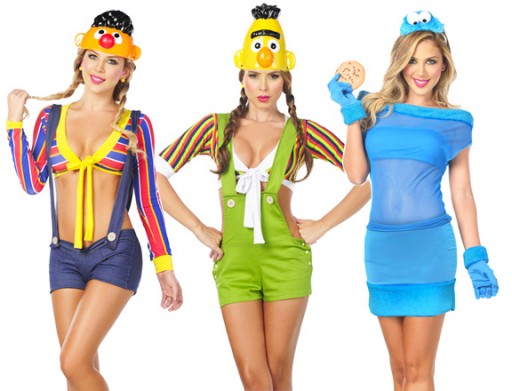 Ever since I can remember, Halloween has always been my favorite holiday, as it combines two of my all-time favorite things: dressing up and candy! When I was really young and before my brother and sister were in the picture, I always dressed up and went trick-or-treating with my dad in home-sewn costumes that had to be big enough to fit over my snowsuit. Growing up in Saskatchewan, I can't remember a single Halloween where there wasn't at least a foot of snow on the ground.
We made quite the dynamic duo – him dressed as Sylvester the cat and me as Tweety Bird, or him as a big, grinning red devil and me as a smiling little angel, garland halo and all. My personal favorite was the year he glued white cotton balls to his blue-painted face to be the Papa Smurf to my gleefully giddy Baby Smurf.
It wasn't until I got a little older that I noticed my costume choices were less about playing dressing up and more about dressing in as little as possible as I succumbed to the pressure of the increasingly shorter and sluttier Halloween costumes of my peers. Whether in a white cropped tuxedo jacket and tails as Playboy Bunny in my first year of university or this year's Austin Powers inspired, fuchsia marabou-breasted Fembot get-up, I've enjoyed the exaggerated versions of femininity that Halloween allows me to try on for a night.
And while sexy costumes and Halloween seem to go together like too much candy and a bellyache, it made me wonder when and under what circumstances this trend began. As early as the 10th century, the Celts celebrated the end of the harvest with a festival called Samhain, which was halfway between the autumn solstice and the winter equinox. During this time, they believed that the souls of the dead became restless and re-enter the world of the living. The Celts would don costumes and masks as an attempt to confuse or ward-off these wandering spirits.
The anonymity of the mask definitely played its part in the development of the sexy costume, as evident in the masquerade balls that were among the social calendar highlights of the 18th and 19th centuries. Just like today, it was easy for Victorians to eschew their personal morals and ideals while donning the dress of another, at least for an evening or two.
"Respectable women would wear pantaloons or short skirts and milkmaid outfits when they went to costume parties. At the masquerade parties in London, you had costumes with a degree of body exposure. You also had artists' balls–in Paris especially–where you had revealing costumes and some nudity." says Valerie Steele, director of the Museum at FIT.
The birth of the contemporary incarnation of the slutty Halloween costumes naturally seems to be in that glorious decade of sexual liberation, the 1970s. It was then that a more raunchy and racy version of Halloween was liberated it from church basements and community centers and thrust into nightclubs and the streets, such as in New York's famously scandalous Halloween Parade. Of course, this was also the decade that we were treated to the deliciously deviant Tim Curry in a skin-tight, sparkly corset in The Rocky Horror Picture Show, inspiring millions of trashy Halloween costumes for decades to come.
And as cheap, plastic costumes from overseas became more easily available to the point where you can't even walk into a Pharmaprix or Dollarama without seeing at least two aisles full of glittery masks, synthetic-looking wigs, brightly colored makeup, or eerie accessories in the weeks preceding Halloween, women's choice became skimpier and skimpier, mirroring the trends in fashion of the time, a slippery slope that we have descended into a world where sexy baby costumes exist.
While there are certain looks that should never be given the sexy Halloween treatment, the like the Sesame Street characters coming under so much scrutiny this season, it definitely is fun to put on a ridiculous outfit and the personality that comes with it, especially for people who don't get to engage in this act as often as I do in all my burlesque glory.
There is also a growing movement of women who fight against this trend of slutty costumes in an attempt to take back Halloween . They suggest dressing as one of your favorite female historical figures, goddesses or feminist icons, proving there are other options for women beyond just sexy.