This post originally appeared on QuietMike.org and is republished here with permission from the author
Politics in the Great White North has often been referred to by Americans as boring, dull and uninteresting. This widely held opinion also extends to Canada's national elections; they are too short and too civil. Canadians even take pride in these facts. "At least we aren't as crazy as those damn Yankees," we would say.
Canadian politics, the elections in particular, are indeed mind-numbing and tedious. More so when you take into account we are midway through the longest election campaign in modern Canadian history. A month in and I'm ready for bed already. Speaking as seasoned follower and analyst of politics in general, I feel election forty-two is missing a great deal of fire so far.
What makes this campaign season so epically dismal isn't the lack of money being spent on campaigns or the amount of attack ads on TV, it isn't even the issues themselves (although they aren't helping), it is the uninspiring party leaders who are at fault.
Not an Inspiring Bunch
There are four real parties running candidates throughout Canada this fall, three of whom, who as of now, have a shot at winning. The main three, the Conservatives, the Liberals and the New Democrats are in a virtual three way tie. Elizabeth May's Greens are still a distant fourth.
First off you have Prime Minister Stephen Harper's Conservative Party. Harper had a terrible first month on the campaign trail. Harper had to endure the fallout from the Mike Duffy trial as well the struggling economy which is now in official recession. His handling of the death of a 3-year-old Syrian refugee didn't help.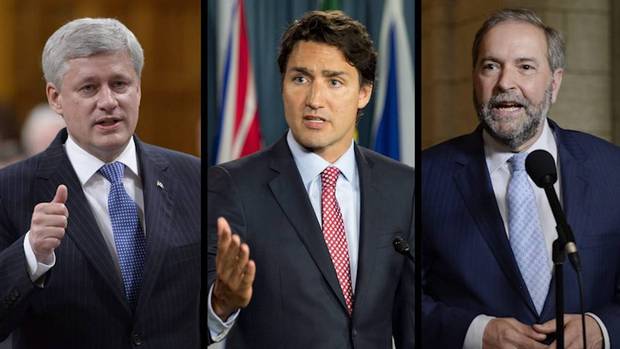 On the Campaign trail Harper has gone into hiding. He has employed his "chickenshit strategy" where candidates have reportedly been urged to skip debates and avoid the media. Harper himself has already promised to skip the English broadcasters' debate. Even though the Conservatives are running their campaign as a party on the way out, they can still win.
Next we have Justin Trudeau's Liberal Party. The young Mr. Trudeau reminds me of an inexperienced Hillary Clinton. For the last decade, the Liberal party has gone after the centrist vote, driving down the middle of the road on social issues (except marijuana legalization) and on the right on economic issues.
Under Trudeau, it appears Liberal strategy has not changed and again, it's not really working. Being the centrist party also means you take the brunt of attacks from conservatives and NDP, all three of whom are sucking up to voters who don't really follow politics.
Last we have Tom Mulcair's New Democratic Party (NDP). Tom is an ex Quebec Liberal and it shows. The NDP used to be known for its socialist leanings, but not anymore. Now it seems they are just another Liberal Party without the experience. A socialist party in favor of the TPP agreement? Really?
Playing it Safe and Boring
The three political parties at the top, while different, are all playing it safe catering to the same middle of the road voters and as a consequence boring the crap out of everyone. The problem is, the political ideology of Canadians does not lie at the center.
Last week, before the refugee story started to emerge, the media was fixated for days on which party leader wanted to balance the budget. Trudeau would run a short term deficit to turn the economy around while Mulcair and Harper would balance the budget at all costs. And you wonder why Canadian politics is boring?
Balancing the budget, while important, is not the most pressing economic issue of our time and it would be nice to stop pretending it is. Like the United States, and following a decade of Harpernomics, income inequality should be front and center, but no… Canada's Middle Class is strong, but inequality is skyrocketing.
Canadians don't care about the trial of a corrupt senator they can't relate to, it's certainly not going to change which way they vote. They don't care about deficits if they can't find work. Nor do they care which party leader is more ready to lead. They're all ready or they wouldn't be running. Uh, yawn.
Canada's party leaders could learn a lesson from the man shaking up his party and scorching the campaign trail south of the border. Someone who is lighting a fire under the asses of the electorate and bringing important issues to the forefront of people's minds.
Searching for Sanders
No, it isn't Donald Trump or Ted Cruz. There is a big difference between bringing excitement and bringing in TV ratings. American Senator Bernie Sanders, the proud socialist from Vermont, has been packing them in by the thousands for months now. And he's done so by campaigning on the economic issues that common people can relate to. He is bringing a sense of hope and passion to U.S. politics that Canadians can only dream of.
Granted, aside from wealth inequality, Canadians don't have the same problems Americans have, but that is no reason not to be passionate about the policies you care about and the future of your country.
Canadians saw that passion once, in another proud socialist. Four years before Americans were feeling the Bern, the late Jack Layton of the NDP was giving us the Orange Crush. Layton's New Democrats gave the Liberal Party their greatest defeat in Canadian history. He did it by galvanizing the population by campaigning on the left.
If you want votes, you need to get people talking. No one did it better than Layton who took the NDP from virtual obscurity to official opposition. If he were still alive today, there is no doubt in my mind the NDP would be miles ahead of the pack.
Alas, we can only dream. Those days seem dead and gone. What we are left with is lesser men fighting it out over lesser policy and they wonder why only 60% of the country votes. I'm still going to vote, but it looks like it won't be for any of these Prince Valiums.
I'll be waiting for the Canadian Bernie Sanders to finally whisk me off my feet. They'll be passionate about wealth inequality, the environment, health care and aboriginal rights. They'll speak out about bogus trade deals, and shameful foreign policy. Lastly, they'll be able to communicate their message so well that the corporate media will have no choice but to listen and talk about them. I'm looking at you Elizabeth.