Today is the 12th day of Chief Theresa Spence's fast. Around Canada, North America and beyond, Indigenous Peoples and their allies are rallying around this Chief's determination to stand up for her community of Attawapiskat and demand that the human rights of her community be heard by the government. Earlier in 2012, this community declared a state of emergency due to a severe housing crisis.
At around the same time as Chief Spence began her fasting (also described as a hunger strike), the Idle No More movement began with four women named Sylvia McAdam, Jess Gordon, Nina Wilson, and Sheelah Mclean "who felt it was urgent to act on current and upcoming legislation that not only affects our First Nations people but the rest of Canada's citizens, lands and waters." Discussions around the upcoming Bill C-45, led to an increasing need for action and they began teach-ins and organizing for actions across the country. Flash mob round dances, walks and highway blockades are occurring across the country as we speak urging people, native and non-native, to take part in a revolution "which honors and fulfills Indigenous sovereignty which protects the land and water."
On Friday, December 21st, 2012, I put aside all of my other commitments and took to the streets with others in support of Idle No More and Chief Theresa Spence. We met at Square Cabot where the organizers recognized the Haudenosaunee land upon which we stood. Next, Kanehsatake Mohawk indigenous human rights activist Ellen Gabriel opened the gathering with a speech that strongly moved me. Looking around me in the crowd, I spotted many friends, coworkers and allies that I have worked alongside with over the past six years of my time in Montreal.
The drumming led us down St.Catherine as we walked peaceful chanting for people to not stand by idly anymore as the Conservative government not only ignores the needs of First Nations, Inuit and Métis communities in Canada, but moves forward with bills (such as Bill C-45) and legislations that will effectively worsen conditions and relationships between Canada and First Peoples and continue its assault on the environment.
We walked all the way to the front of Place des Arts where more speakers shared their messages including Michelle Audette from Femmes autochtones du Québec, social media activist Chelsea Vowel and a few others. They delivered powerful messages reminding us of what is at stake and what needs to be done. We then began a round dance on the steps in front of Place des Arts, holding hands and standing together a determined community of different persons dedicated to seeing change now for the sake of this generation and the seven to follow.
Instead of writing more on this movement is in my words, I would like to act as a resource and lead you to those amazing articles and statements that have already been made. I think that these voices are powerful ones and that more people should hear these messages. Furthermore, I would ask that those who want to work in solidarity with Idle No More, please respect the ways in which organizers are leading the responses.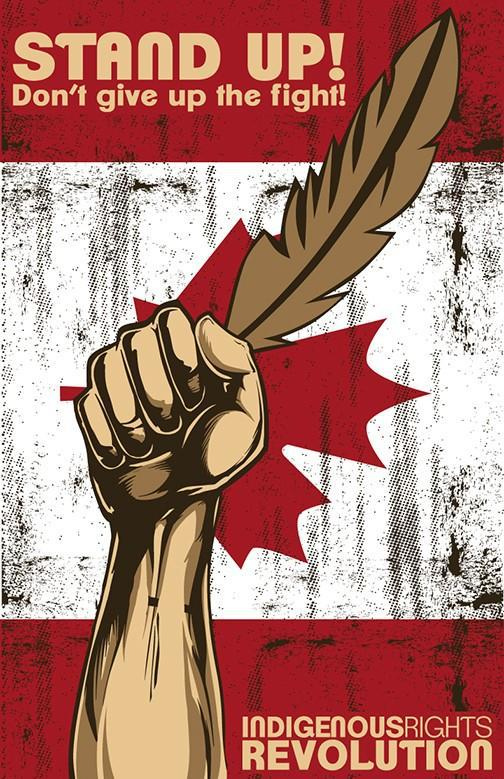 For example, those who attend events, protests, round dances and/or rallys may be asked not to cover their faces and to act as peacefully as possible. It is very important to respect these guidelines in the name of being good allies and also to ensure that the movement is not discredited by the media and the government in an attempt to deny the issues and realities that Idle No More and collaborators are working hard to see addressed.
First and foremost, have a look at the Idle No More website.
Furthermore, I invite you to read and pass along this pamphlet by Taiaiake Alfred and Tobold Rollo entitled Resetting and Restoring the Relationship between Indigenous Peoples and Canada.
As well, I encourage you to read Chelsea Vowel's article entitled "The natives are restless wondering why?" as well as the rest of her blog where you can learn more about Attawapiskat, Chief Theresa Spence's community, and other issues and topics related to First Nations, Metis and Inuit peoples in Turtle Island (North America). Then check out part of Chelsea Vowel's speech during the Idlenomore gathering on Dec, 21st, 2012 in Montreal, Quebec.
* Top image by Marc Saindon, CPNUQAM