Café Cleopatra is going to court. True, the artists of Café Cleo already won the case against their eviction in the court of public opinion, the OCPM ruling confirmed their victory and the recent attention paid to the Dead Dolls appeal to Prince Charles reinforced it, but now they're taking the case to a court of law.
Another historic building where the fate of Cafe Cleo may be decided
Café Cleo owner Johnny Zoumboulakis is contesting the city's expropriation of the historic building the Cleopatra now occupies in municipal court, arguing that it is unjust, unfair and a whole slew of other things. Angus head Christian Yaccarini, a man with two prior convictions for fraud, may be no stranger to court and the Mayor's administration already has a few other cases pending against it, however for Zoumboulakis, he is defending his livelihood and his right to continue working where he has worked for over 30 years.
He is also defending Montreal's heritage, though you wouldn't know it if you listen to what Yaccarini told the Globe and Mail: "This isn't heritage. It's just a nude dance club" a statement which ignores the opinion of heritage experts like Vivianne Namaste and Dinu Bumbaru. It also doesn't take into account the street's National Historic Site designation given to it by Parks Canada in the late 90s.
Cafe Cleo back in the day: not heritage according to Yaccarini
Of course, given Yaccarini's positive views on the project to replace the historic Griffintown neighbourhood with a strip mall, one wonders just what he considers to be heritage. Given Tremblay's endorsement of the same Griffintown project and his attempt to rename Parc Avenue after Robert Bourassa, one gets the picture of a man who only thinks of heritage when it's politically convenient for him.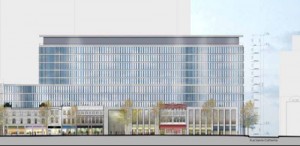 Cafe Cleo's potential future: not heritage according to pretty much everyone else
Café Cleopatra is a Montreal landmark and one that is probably better known around the world then an office tower with trendy boutiques could ever possibly be.   The building has housed various types of erotic entertainment over a century.   Tremblay and Yaccarini seem more interested in a Giuliani-style Disneyfication of Montreal than heritage, an outlook that doesn't leave much room for a historic burlesque house.
While it may be possible that recent changes to the executive committee, including Projet Montreal leader Richard Bergeron being added to it and made responsible for a portfolio that includes the Quartier des Spectacles, may signify a different mood at city hall vis-Ã -vis this project, it's still the same guy, Tremblay, calling the shots. This means it may just come down to whether or not the court of law this ends up in sides with the court of public opinion.