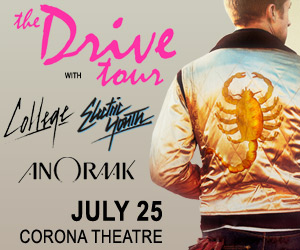 ForgetTheBox has another great ticket giveaway for you, win tickets to THE DRIVE TOUR at CORONA THEATER tomorrow night! (Wednesday July 25th)
Performing will be College, Anoraak, and Electric Youth. To enter the contest simply leave a comment below (make sure to include your email address or some contact info), and for extra entries share this with your friends on Facebook & Twitter!
COLLEGE:
College, in founder David Grellier's words, was an attempt "to synthesize into my music the emotions of my childhood" and was greatly influenced by American 1980s pop-culture, "80's soaps and an aesthetic which I particularly like: color, images, silvery films and the sun – images of Los Angeles, Chicago and all of the other cities that continue to fascinate me."
ANORAAK:
While he's certainly into laser-guided synth lines and sepia-toned nostalgia trips, Frédéric Rivière's debut album as Anoraak (Wherever the Sun Sets) is more indebted to Italo disco, Motown-schooled funk and sepia-toned pop music—think: M83 on Ecstasy—than anything that's lo-or-glo-fi.
ELECTRIC YOUTH:
Electric Youth is named after an album by Debbie Gibson, who along with Tiffany was the quintessential late-'80s American bubblegum teen pop girl A young couple from Canada Bronwyn and Austin of Electric Youth is part of the same amorphous community of pop-obsessed bloggers and music makers who chill wave and witch house crew, but unlike say Teengirl fantasy they do not use POP language and imagery as a front for a more avant-garde exploration of this territory.
Tickets on sale @
http://www.evenko.ca/fr/show/evenement/the-drive-tour-6354