Meat doesn't get any fresher than at Marché 27, the understated Bar à  Tartare on the corner of Prince Arthur and Clark, tucked behind the bustle and hype of St Laurent.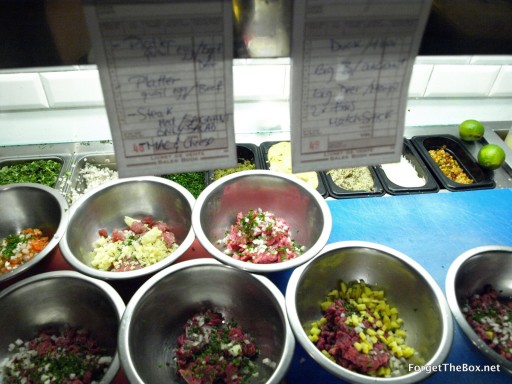 Seven friends joined me last Monday for a meat fest, the best way to start the week. Before I gush about the food, I have to mention that the service that night was shockingly slow. I hesitate to write this because I've been there a few times and have never had a similar experience. But the service that night was really unbearably slow, and must be duly noted. As a general rule, I try to be sympathetic and patient and not be harsh on service (especially when the restaurant is clearly understaffed), but we waited for an hour and a half before we saw any food. I had to ask the waitress to bring out our order of French fries before our meal when my stomach started making embarrassingly loud noises. Fortunately, being in good company helps with the wait.
Marché 27 didn't start off as a specialty tartare bar, and while I'm a huge fan of the vast raw meat selection, I miss their old menu. I wish that they had kept the duck panini, the arancini and the asparagus. There are still a number of cooked options for those who don't like their meat on the extra rare end, but since my faves are gone, I really must insist that you have the tartare.
Our dinner date was for 8pm. A few of us arrived a few minutes early, still in time for the 5-8pm $5 cocktail special. A friend and I promptly placed orders for pre-dinner cocktails: she got Le walk 27, a gin concoction that came with a thick layer of blueberries floating at the top, I got a Chipotle bloody caesar that had some serious kick. Both drinks were delicious and worth a happy hour visit.
I really enjoy the atmosphere at this place, the tiles, the colour scheme, the blackboards detailing the wine list and menu. It has the feel of a very chic diner. But pick your seat carefully, if you have back problems stay clear of the stools no backrest can get tiring. I'm also not the biggest fan of tv's in restos, specially since they had the FoodNetwork on (did I mention that we waited a long time to be served? it didn't help that there was food showing on the tv).
To start, a friend ordered the onion soup, which came with a grilled cheese sandwich. The soup was decent, though I wish they used gruyere (or jarlsberg, or even mozzarella) rather than marble cheese for the sandwich. Another friend had a salad to start, which came with a lovely dressing.
For the mains most of us got tartare, with the exception of one person who opted for the steak and another who tried the seductively named macaroni and cheese poutine. Unfortunately there was nothing poutine-esque about the macaroni, which was a let down this is the only dish we tried that I would advise against. The steak was properly done medium-rare, one end was slightly overcooked, very tender it was served with a blue cheese butter that tasted as good as it sounds; a good option if you want to rebel against the tartare. But really, when in Rome…
The rest of us selected from the extensive choices of meats and styles. Since I like trying a little bit of everything, I opted for the tasting menu: 50 grams each of beef done french style with a quail egg, duck italian style with a quail egg, spicy venison, japanese tuna and thai salmon (note: the quail eggs are extra). A friend tried requesting a few changes, but they were adamant that the tasting menu is set. They also offer a choice of 100 grams or 150 grams servings, if you know exactly what you want.
Deliciousness all around. I thought the thai salmon was slightly heavy on the cilantro, but another friend loved it, so that was a matter of preference. I couldn't pick a favourite between the venison, beef and tuna. The duck was pretty darn good too. We had an order of the french fries and one of the match stick fries, both deliciously crispy, but we finished these before our food came out the waitress brought us an extra order to go with the tartare. To drink (after the cocktails), we had a bottle of the 2009 Les Jamelles Syrah, which stood up very nicely to the strong spices and flavours of the tartare.
We ended the evening with a complimentary assortment of desserts: crème brule, tiramisu and a lemon poppy seed cake. I think this was their way of making nice for the slow service, and I was happy to accept. While the crème brule and the lemon cake were tasty, the tiramusi was absolutely devine the perfect finishing touch to a delightful meal.
Photos by Andrea Merlano