I am a self-proclaimed foodie, but I've noticed a strange phenomenon: the experience of food is so much better when you are in good company. Perhaps this is why I'm more likely to make a nice meal if I'm cooking for someone else. Perhaps I'm just lazy. In any case, eating with good friends is at the top of my "favourite things" list.
Enter Wine and Dine Montreal.
I devised a plan to coerce my friends into joining me for dinner: I created an official group on Facebook. The purpose is to try different eateries in the culinary wonderland that is Montreal. This is better than dinner parties for two key reasons: 1. I don't have to wash the dishes, and 2. I get to try new cuisines made by pros. I'll also note that my timing is flawless: who doesn't want to start the New Year with an exciting social calendar?
And so we had our first-ever outing.
Picking the destination was easy. I opted for Chinese food — greasy comfort food that we could all share. The obvious choice was to hit up Chinatown; the unsuspecting victim was Mon Shing. (90 de la Gauchetière W.)
I invited a random collection of friends who didn't know each other so I wanted to avoid people hiding behind a menu and their own plate. Once again I prove my evil genius: by collaborating in dish selection and then tasting the same treats, the group quickly bonded.
The restaurant was pretty empty on that fateful Tuesday night. We got a round table by the window that comfortably sat our group of eight. The table featured a large lazy susan, which was fun to spin around. I caught more than one person giving someone across the table a hard time by spinning it as they tried to serve themselves. I don't claim to have very mature friends.
Our vegan companion ordered a veggie dish with tofu and steamed rice, and though I didn't taste it, the dish was apparently enjoyable. The rest of us went a little crazy. The menu has the customary numbering system, and instead of having a waiter take our order, they gave us a piece of paper and pencil. It may sound like lazy service, but I think this was very clever. We would have driven the waiter nuts if he'd had to keep up with our selection process. As it was, I had to keep slowing people down while they yelled out numbers for me to jot down. In the end we got two dim sums, one pork and one shrimp, a General Tao, a side of steamed rice, Japanese fried rice, a mushroom dish, a Cantonese chow mien, a beef bird nest and a Pekking Duck, all of which came in generous portions.
The food couldn't have arrived fast enough, we dug in the second the waiter put the plates down. All the dishes we ordered were highly satisfactory; it was everything you could want when having [North American] Chinese food. The General Tao had a nice crispiness and the Japanese fried rice, which is fried rice with sea food, was very pleasant. The mushroom dish was a little tricky since the suckers were very slippery (some peeps had to resort to poking them with their chopsticks), but they made up for it in taste. However, my favourite dishes by far were the beef bird nest and the Pekking duck.
The duck was served two ways. We first received crispy duck placed on colourful deep-fried wafers. These came with wraps, onions covered in sesame seeds, and accompanying sauce, and we proceeded to make our own delicious duck wraps. There are few things that bring me as much joy as crispy duck skin, and this was perfectly golden. The rest of the duck came with bean sprouts and veggies, also delicious but not as exciting.
My other favourite dish had three delicious components. First the "bird nest," which was not a real bird nest but rather something that resembled a deep-fried tortilla-like basket, was wonderfully crispy. The beef itself was good, but nothing to write home about. The bed of broccoli, however, was so so good that I would tell mom and pop about it.
We ended the meal by passing each other fortune cookies. Fate approved of my Wine and Dine group as my fortune read "Stop searching forever, happiness is just next to you." So true.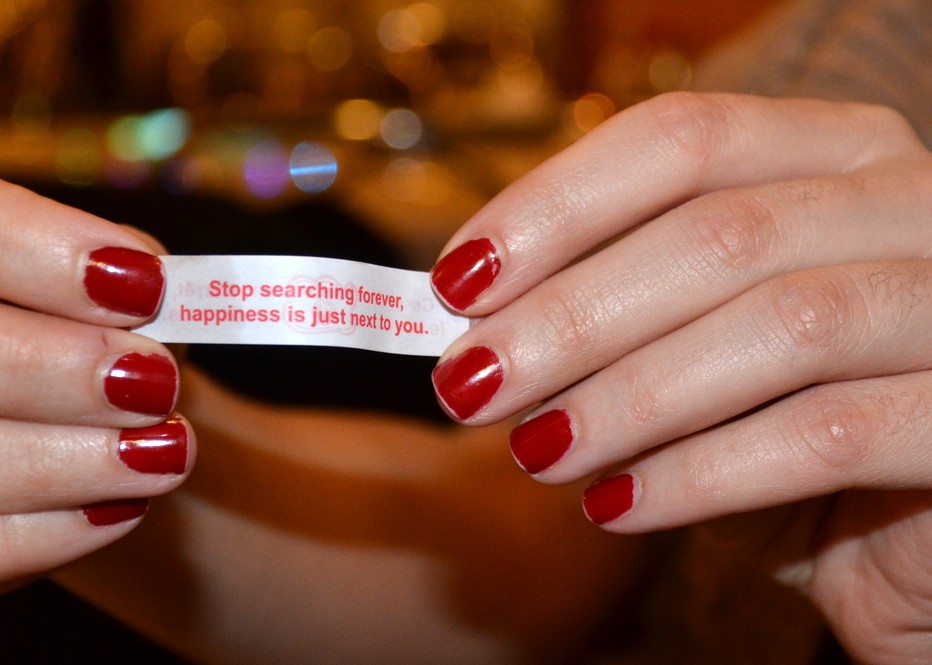 Photos by: Chris Zacchia