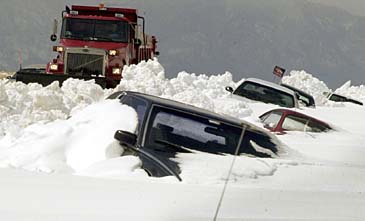 I know I bellyache a lot about winter in general and the negative ways in which it affects the city and me. My most recent beef with the city of Montreal and winter is of course about snow removal. Those of us who live in the city and also drive cars know what I'm talking about.
At the beginning of last week, as I was recovering, the city had its first winter storm. The cleanup hasn't been finished yet. In fact, it seems to take this city a long time before the giant piles of snow do get cleared. I guess I should be thankful they get cleared at all.
What's worse, the snowplow simply buried my car under a megaton of snow, and my only shovel was a flimsy little piece of garbage that snapped in two at my first dig. So I bought a new shovel. This time I committed overkill, buying a shovel that just barely fits into my trunk, and takes some doing to get in there in the first place. Another problem with keeping the shovel in the trunk was that the trunk was buried inside the snowbank created by the plow.
In Montreal, parking is already a nightmare. In winter, with huge piles of snow, buried vehicles, struggling vehicles, annoying orange signs announcing snow removal ,which doesn't always happen, I should be used to this. If I have to listen to one more idiot on the news who "Loves winter" and "Wants more snow" I will root them out and strangle them, then make them shovel. Funny how this idiot kid who wants more snow should be interviewed immediately before a commercial for winter sporting goods comes on!
Snow under the car, snow in my face, snow upon snow and it won't end for another five months! I know. Shut up! There are far greater issues facing us right now that this giant avalanche of snow that hits the city every winter and usually gets worse before it gets better.
Also, it gets very cold. I don't like the cold. I mean, I like it in my drink in summer, and I like having some cold in short bursts perhaps intermittent with warm bursts, but the level of cold outside is kinda ridiculous. Makes me wish I lived in a warmer climate.

Speaking of a warmer climate, the 2010 United Nations Climate Change Conference wrapped up recently in Cancun, Mexico. The Canadian delegates including ministers and media didn't accomplish much, but I'm sure they were distracted and busy, scantily clad and enjoying sun and margaritas served by pretty, equally scantily clad señoritas on the warm, sandy beach, but then… maybe I'm feeling a little bit of jealousy there… no matter, when they came back to this weather, I'm sure the shock sent taxing troubles to their immune systems, and all of them caught the cold that the passenger in seat 36G had, despite the fact that they were all flying first class and he was in third "Economy."
Ok, maybe I'm being a little too liberal, after all, I'm supposed to be one of those guys who supports the right wing, but leans somewhat towards the left. In fact I lean often a little too heavily to the left for my own liking. Politics aside, I'm voting green because without a planet, political policies are kinda moot.
Photos: 1. snow: http://publicsafety.utah.gov/homelandsecurity/images/411snowcars.jpg /
2. Green Party: http://windconcernsontario.files.wordpress.com/2010/08/green-party-simplified-flower-election-logo-english.jpg