Pope Benedict XVI, the 82 year old leader of the Catholic church, has recently denounced world leaders for their failure in signing a climate treaty in Copenhagen last month. He says that the way to peace is through protecting the Earth and has referred to the climate problem as a moral issue out of respect for "God's creation".
His most recent announcement, concerning the underwhelming results of the COP15, was given during an annual speech to Vatican ambassadors. During these speeches, the pope reflects on issues that are primary importance to the Vatican and what is referred to as the diplomatic corps.
On Dec. 6, 2009, the Pontiff called for world leaders at the summit to "identify actions that respect creation and promote sustainable development." Additionally, he said that "in this sense, to guarantee full success at the conference, I invite all those people of good will to respect God's laws of nature and rediscover the moral dimension of human life."
The pontiff said that it is the "self-centered and materialistic" mindset that has resulted in endangering all of creation. As Peter Brown said in an earlier post on Green Bean Tuesday, the pope also stated that what we need is a new way of thinking about the environment and our morality if we are to save ourselves this time. A long term review of our current economic model is needed to help encourage a more "sober lifestyle" that respects all of God's creation.
"The protection of creation is not principally a response to an aesthetic need, but much more to a moral need, inasmuch as nature expresses a plan of love and truth which is prior to us and which comes from God," he said.
During another address on January 1st, Pope Benedict stated that climate change and natural catastrophes threaten people's rights to life, food, health and access to peace. He has expressed that it is those living on islands who have the most to lose – considering their proximity to sea-level and the catastrophe that rising sea levels will have on these regions.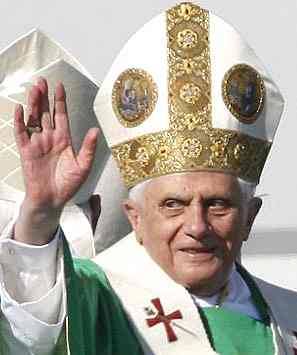 Pope Benedict has been referred to as the "Green Pope" for frequently raising environmental issues publicly since his appointment. Some of his noteworthy contributions have been overseeing the installation of photovoltaic cells in the Vatican's auditorium which converts sunlight to energy and several reforestation projects which cut down on CO2 emissions.
Say what you will about the Pope's address, the Catholic church has a very long history of environmental and human exploitation and many may feel that this address is too little, too late. Others may also agree that much more could be accomplished by the Pope and the Vatican in promoting human rights and environmental protection. Other points of view may find that religion is not the best approach to solving the climate crisis.
It can difficult to be skeptical of a pope who delivers a speech entitled "If You Want to Cultivate Peace, Protect Creation", where he asked "can we remain indifferent before the problems associated with such realities as climate change, desertification, the deterioration and loss of productivity in vast agricultural areas, the pollution of rivers and aquifers, the loss of biodiversity, the increase of natural catastrophes and the deforestation of equatorial and tropical regions? Can we disregard the growing phenomenon of 'environmental refugees', people who are forced by the degradation of their natural habitat to forsake it – and often their possessions as well – in order to face the dangers and uncertainties of forced displacement?"
A speech now and then reiterating what scientists and activists have been saying for years – decades even, may feel as significant as a pebble being thrown into a waterfall, but there is much to celebrate in having the Pope as an ally in the climate change struggle.
For more information about the pope's address and some good commentary can be found here.
For other environmentally related news concerning Pope Benedict, please click here.