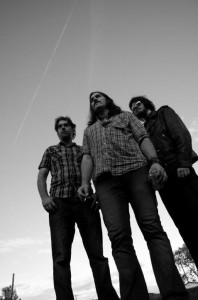 I was smoking a joint and weight lifting while listening to the new Wölfcästle album when it hit me: these are good fucking activites to do while playing their newly released EP.
I have had a few encounters with Wölfcästle, and for the most part, they have been positive, amicable experiences involving very few broken bottles and intoxicated threats.
But the saying is as true today as it ever was; what happens at a Wölfcästle concert, stays at a Wölfcästle concert.
I really don't want to go into the details, but if you must know, at their last show someone did throw pink panties at the stage, unfortunately it turned out it was a middle aged out of work actor–but still, I though it was pretty cool.
Then there was an incident involving blood, sweat and tears (that may have in fact been beer) in front of the stage that caused a few longhairs to slip, knocking over a waitress carrying a tray of drinks.
Yes, it is true, this band is calamitous–but, they are also damn good.
After that show, walking home with a feedback ringing sound –I realized the songs had burrowed their way into my head and I wanted to hear more.
;
Now with their new album released on bandcamp I am very excited to give you a details of my very stoned analysis of each song… and no, I will not be making Simpsons references–deal with it!
Okay, the album begins:
After releasing the wolves in the introduction, wolves are running rampant in the opening track, howling in the darkness…I'm a little scared..but then the opening notes of White Russian kicks in and I feel safe, well, sort of.
White Russian
One night while on highway 66 you'll end up in a bar by the side of a roadside and you'll need to drink a White Russian, Screwdriver, Johnny Walker, Jack and Coke to save your life.
So you better do it!
My kinda woman
The riff in this song is positively awesome: how can you not dance?
Will belts out sweet lyrics about the bewitching quality of the woman he loves, that might turn out bad for his health. Some guys are attracted to the dangerous girls…but will they break them in the end? Stay tuned and find out.
King of diamonds
Listen up, listen up, this song is going to rock! If this a testament to treating a woman like a queen, then it makes it case by rocking hard. The songs frenetic ending makes me bow my head in supplication!
Radio Frequency
The commercial radio industry is ripped apart in this song and I think it's great. How the slow fattening of our head space is brought about by the bloated radio industry. But if you can reveal some truth about the corporate music industry-radio cartel and have a good time while doing it, why not?
Malibu Stacy
Malibu Stacy is really a response to My kind of woman. Where at least the woman in the first song wants to be with you, Malibu Stacy wants to play games. Why won`t she answer the damn phone! Nobody knows?

Teenage Runaway
If anyone going to write a song about accidentally picking up an underage girls let it be Wölfcästle…but let's be honest about this song–it's seriously offensive and over the top, but it only reflects the reality of a modern situation, think Don't stand so close to me by the Police when listening to this track.
Holy roller
Do you have a gambling problem? Some of the greatest songs ever written deal with gambling and I think I may just have found another. When I hear this song I can't help but think about Motörhead`s Ace of Spades and Chris de Burg`s Spanish Train on a collision course. Could this be the next great gambling song?
(I Just Want to)Rock and Roll
The old glam rock opening is genius. This song lead to some inevitable rock and roll consequences about not getting what you want. With a powerful lead riff and solo, I just want to Rock and Roll but no one wants to join me!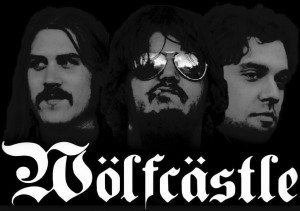 Hatin' on me
This is a great ending for this album, if you're going to hate then you're e going to hate it, do so and get it over with! But I won't, because this album is impressive.
Each track impressed me even more than the last. If anything this album is going to rock Montreal, and, maybe even the world.
With their disc for sale this album just keeps giving and will save you money in the long run!
Listen kids, you ain't gonna find this album at Walmart. But it's okay Wölfcästle's EP is available on BandCamp.