This fall, I began working tangentially in the tech industry coordinating volunteers, who inspire and empower kids by teaching them to code, for a local non-profit called Kids Code Jeunesse. In light of recent and troubling events making headlines and spreading like wildfire over social media, I thought it necessary to speak with local #WomenInTech and hear about their perspectives and to discuss gender in the Tech and Gaming industry, and mostly, to learn from them, for myself and my work, and to share that knowledge with others.
Firstly, I spoke with Carolyn Jong, who is an organizer at the Mount Royal Game Society and a member of the Technoculture, Art, and Games Research Centre. Jong has been involved in many projects including making games of her own, and looking at intersectionality in gaming cultures. She is also an active member of Montreal's indie game community.
A few days before we met for the interview, Jong hosted a discussion on recent events, including threats of a massacre at a feminist speaking event on the topic of gaming that would be given at a school, and about the "hate and harassment campaign," also known as #GamerGate, with its persecution of game designer Zoe Quinn and others. Jong felt that there was a need for local collective conversation about what had been happening.
According to Jong, in terms of discussing issues affecting women in tech and games, there is a whole gamut of reactions. Some people recognize the issues and work towards addressing them while, on the other end of the spectrum, there seem to be two types of reactions: one of dismissal ("There are no issues!") and another of a more aggressive nature.
Jong noted the irony of the dismissive response, which forces those seeking to address gender issues to keep close tabs on research and statistics, in order to demonstrate the "realness" of an issue that they may have experienced first hand. On the other hand, the more aggressive reaction is linked to power, privilege, and fear: "It's complicated and part of a much bigger trend. This is a reactionary response." In her blog post, "GamerGate and the Right," Jong explores the disturbing nature GamerGate and its relationship with other movements and politics more in depth.

There are many initiatives aimed at bringing women in the industry together (such as GAMERella) along with initiatives aimed at getting young girls interested in tech and games (Girls Who Code, Ladies Learning Code). Jong has been involved with some of these groups, including the local group Pixelles, and has found meeting others with similar experiences and looking to address similar issues has also been a validating experience.
"For my own experience at least, it has been inspiring," Jong explained. "These spaces have kind of given me, this sounds corny but, the strength to keep pushing on [addressing gender issues]. It would be really hard to do that kind of work because it's not something that tends to be rewarded in other places."
"I'm hoping," Jong emphasized, "that the sort of push to get girls and women involved in games is going to branch out to include other people that have been marginalized or minoritized in circles. Current movements tend to be inclusive and aware of these issues but I'm hoping other initiatives specifically addressing these groups will emerge."
Second, I chatted with Julia Evans, a Montreal-based web developer and data scientist, who organizes monthly events for programmer women with the Montreal All-Girl Hack Night. She also co-founded the local chapter of PyLadies Montreal.
"My daily experience in this community is mostly of super wonderful people, but for lots of women (and other minorities), it's not like that. They work with people who routinely don't take their work seriously or sexually harass them or just exclude them in a series of minor ways every day," Evans recounted. "The more friends I make, who are women who work in this industry, the more I hear about [how] super competent wonderful technical women regularly get harassed and threatened. There's a lot of really blatant sexism."
These incidents of blatant sexism range from the microaggressive and discriminatory, to flagrant misogyny.  Evans cited the blog posts of two women, Cate Huston and Julie Pagano, who publicly left the tech industry or community as an example of the types of issues women face.  Evans also cited as evidence of blatant sexism how Christien Rioux, co-founder of Veracode, dismissed women's abilities to write security exploits. Recently, the CEO of Microsoft, speaking at the Grace Hopper Celebration of Women in Computing, responded to a question for advice for women who might be nervous to ask for a raise with a statement that they should not ask for a raise but trust in the system to pay them what they should earn. Problematic to say the least. There exists, and Evans pointed to it, a timeline of sexist incidents at the Wiki for Geek Feminism which includes the École Polytechnique massacre of 1989.
For Evans, who is used to the kinds of environments that welcome a diversity of programmers, it comes as a shock to attend conferences where 98% of the people in the room are men. "What went wrong here? This is not what a developer community is," Evans recounts thinking in these situations. She finds it really upsetting that it would be considered normal to have a conference with an overwhelming majority of men when there is a considerable and established presence of women in programming already. Moreover, Evans nods to the magazine Model View Culture as highlighting the already existing diversity in tech whilst addressing and offering solutions to some of the barriers present.

Evans, like Jong, pointed to the importance of spaces which recognize these issues and aim to make change. Initiatives like AdaCamp, a women-only conference around open technology and culture, and workshops like Hacker School where, Evans explained "people work incredibly hard on making sure everyone is taken seriously and that everyone is given an equal chance to learn and grow." Evans recommends reading a post by fellow Hacker School attendee Sumana titled "Hacker School Gets an A on the Bechdel Test" which highlights the diversity of women and their conversations in tech spaces.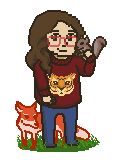 Forget The Box would like to thank Julia Evans and Carolyn Jong for their time and for sharing their experiences and knowledge with us.