Woody Allen shines as a lovable loser who'll do anything for his clients in Broadway Danny Rose.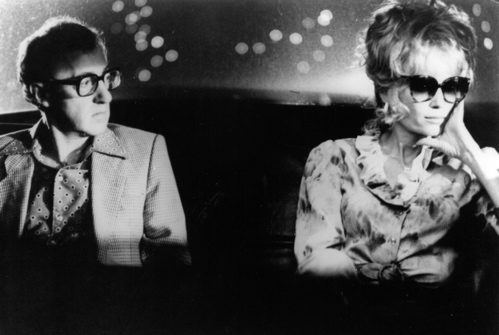 BROADWAY DANNY ROSE (1984)
Starring Woody Allen and Mia Farrow
Co-Written and Directed by Woody Allen
Distributed by United Artists
84 minutes
Broadway Danny Rose is Woody Allen comedy-drama at its best.   Danny Rose (Woody Allen) is a two-bit theatrical manager who busts his balls for a client list that includes one legged tap dancers and alcoholic has-been crooners.   Despite the fact that any time an act he handles gets some success they immediately leave him, Danny still has faith that one day things are going to turn around.
Danny Rose is my favorite Woody Allen character.   Danny is absolutely still a neurotic mess, yet he's not nearly as much of a narcissist as most other Allen characters.
Danny is a sweet man who's never moved up the show business ladder because he's willing to do things like sacrifice his commission so an act can get ahead.   For Danny, a relationship with a client is always personal, yet it seems the client will simply use Danny for as long as its convenient for them and then move onto the next thing.
As in every important Allen film, New York City becomes another character.   It's interesting how the same streets and landmarks can evoke different feelings from film to film.   In Manhattan (1979) the city was this beautiful, romantic dream world.   In this film, the bright lights of Broadway are a reminder that despite all your hard work and best intentions, not everyone makes it in show business.
Without a doubt, the best character in this film is Tina, played to perfection by Allen muse Mia Farrow.   With her hair toppled on top of her head and her eyes hid behind large dark sunglasses, this Jersey girl is nothing like the regular kind of uptight Manhattnite you find in an Allen film.
Tina is wild and hedonistic and despite having glamorous love affairs with heads of mob families and singers, finds herself drawn to Danny.   Of course when I said that Danny isn't as narcissistic as the usual Allen character, that doesn't mean that as a writer Allen can't write a scene where a beautiful woman like Farrow declares that she loves brains over beauty.
The best scenes in the film are the ones that Danny and Tina spend together.   Not only do the actors have a natural chemistry, but in the end Tina is the only one who sees that Danny is a man who gives everything of himself without expecting anything back and she decides it's about time that someone had faith in Danny Rose for a change.